Show overview
---
A complete artwork on the Rhine - Niederwald Monument, Rüdesheim (Part 2)
Two rounds of bidding were required to find a suitable design for the monument, which was in the end created by Johannes Schilling. After the foundation stone was laid in 1877, it took another six years before the monument, which weighs 75 tons and cost one million gold marks, could be inaugurated by Wilhelm I. The first German emperor nearly fell victim to an assassination attempt, but the would-be assassins failed because of the damp weather conditions on that September day, and the fuse on their bomb refused to burn.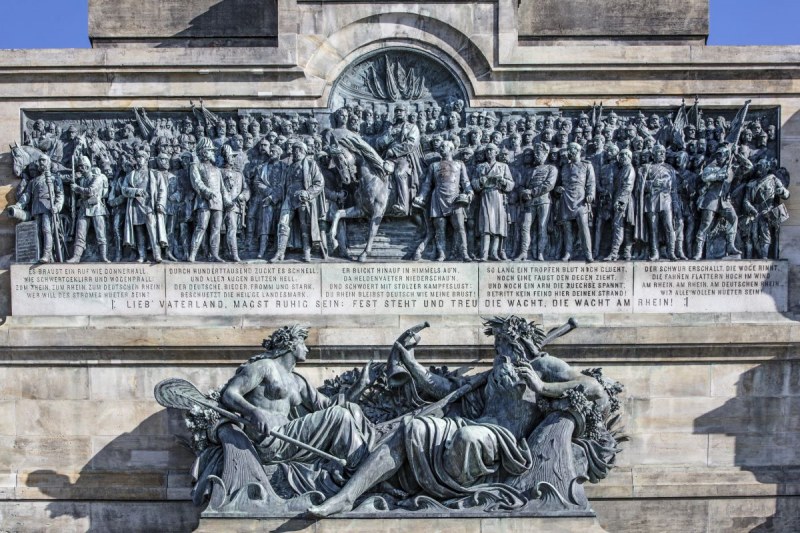 Today, the Niederwald Monument is looked after by the Administration of the State Palaces and Gardens of Hessen, and in recent years has been extensively restored. If you climb the steps, you'll find yourself standing in front of a relief featuring 133 life-size people including a Prussian guardsman with a banner and a Saxon foot soldier with a drum. There are also generals and rulers crowding around Wilhelm I, who is sitting in the middle of the scene on horseback. The relief expresses the spirit of optimism that prevailed at the start of the war and is intended to pay tribute to all the people and parties who were key to its success. Directly beneath, a bronze ensemble symbolises the shift of the border towards the west, which was achieved with the victory over France: Father Rhine hands the guard's bugle to his daughter Moselle, since Alsace and Lorraine now belonged to the German Empire.
To the left and right of Germania Schilling positioned the allegories of war and peace. On the left is an angel with cornucopia and olive branch - symbols of peace and prosperity. On the right, facing France, a winged protective spirit blows a trumpet and rests his sword. Two further reliefs on the Niederwald Monument's plinth address military campaigns - the "Warriors' Farewell" depicts the departure of soldiers and countrymen, and a second motif, their return.
Today, Rüdesheim and Bingen, which sits on the opposite side of the Rhine, mark the entrance to the Upper Middle Rhine Valley, which stretches for almost 70 kilometres as far as and including Koblenz. The region can be explored directly from the monument, for example into the Ostein Park Forest.
Previous article in the series:
A complete artwork on the Rhine - Niederwald Monument, Rüdesheim (Part 1)
Next article in the series:
A complete artwork on the Rhine - Niederwald Monument (Part 3)
---
---
Gallery
---
Published on 07.12.2020
By clicking on this link you leave the Kultur in Hessen website and will be redirected to the website of Twitter. Please note that personal data will be transmitted in the process.

Further information can be found in our privacy policy.
By clicking on this link you leave the Kultur in Hessen website and will be redirected to the website of Facebook. Please note that personal data will be transmitted in the process.

Further information can be found in our privacy policy.