UNESCO World Heritage Site Upper Middle Rhine Valley
Niederwald Monument, Rüdesheim
An imposing female figure standing for unity
Cast in bronze, Germania stands high above the Rhine. Symbolising the foundation of the German empire following the Franco-Prussian War of 1870/71, she holds high the imperial crown. The Niederwald Monument addresses the events of the war and recalls the historical importance of the Rhine as a border river.
The financing of the monument, on the other hand, was very modern; a large part covered by donations from the population. The towering Germania, over 12 metres high, wears armor but has peacefully lowered her sword. She embodies the unity of a nation that at the time, was made up of 25 individual states. Signifying its political importance, Emperor Wilhelm I was present both at the laying of the monument's foundation stone as well as at its inauguration in 1883. He is depicted here on horseback, life size, on a plinth. War and peace, and farewell and homecoming are also depicted as figurative motifs. Thanks to its location, the 38-metre-high Niederwald Monument is one of the most popular monuments in Germany.
This place is maintained by the State Palaces and Gardens of Hesse.
Begleiten Sie die 'German Roamers' auf ihrer Hessen- Sommerreise (2020) zu spannenden Highlights hessischer Kulturstätten.
Besuchen Sie mit uns das Niederwalddenkmal, den Osteinschen Niederwald, Schloss- und Schlosspark Wilhelmshöhe in Kassel, das Römerkastell Saalburg, die Burg Münzenberg, die Keltenwelt am Glauberg sowie das Schloss Auerbach im Staatspark Fürstenlager.
Mit dem Anklicken dieses Links verlassen Sie die Webseite Kultur in Hessen und werden auf das Internet-Angebot von YouTube weitergeleitet. Bitte beachten Sie, dass dabei persönliche Daten übermittelt werden.

Weitere Informationen finden Sie in unserer Datenschutzerklärung.
---
---
---
Stories
Report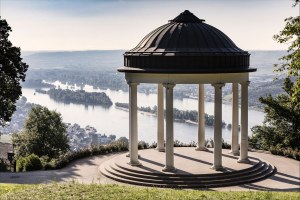 A piece of Greece in the Rheingau
A complete artwork on the Rhine - Niederwald Monument, Rüdesheim (Part 1)
Read story
Report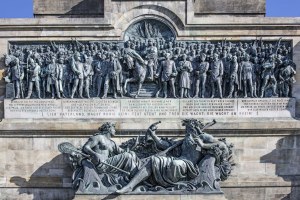 Germania as a witness to history
A complete artwork on the Rhine - Niederwald Monument, Rüdesheim (Part 2)
Read story
Report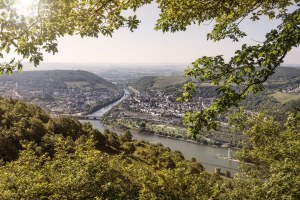 Pure Rhine romanticism
A complete artwork on the Rhine - Niederwald Monument (Part 3)
Read story
By clicking on this link you leave the Kultur in Hessen website and will be redirected to the website of Twitter. Please note that personal data will be transmitted in the process.

Further information can be found in our privacy policy.
By clicking on this link you leave the Kultur in Hessen website and will be redirected to the website of Facebook. Please note that personal data will be transmitted in the process.

Further information can be found in our privacy policy.