Page Contents
---
About the Project
Hessen is a federal state bursting with valuable treasures, historic buildings and cultural landscapes. More than 350 museums share history, and display collections and important historical nature and art exhibits. Hesse's state museums, palaces and gardens, totalling around 50 institutions, form a significant part of this treasure trove. Since 2017, and for the first time in the state's 70-year history, these state institutions have been presented together under a uniform umbrella brand called Kultur in Hessen (Culture in Hessen). With this umbrella brand, the Hessian Ministry of Higher Education, Research, Science and the Arts calls attention to Hessen's great significance in the German cultural landscape. Its diversity offers fascinating insights into the history of the earth and mankind. We invite you on an exciting journey of discovery through the ages and across borders.
Discover Hessen!
By the way: You can find information on another 300 or so of Hessen's museums run by other organisations at museen-in-hessen.de. Auf hessen-tourismus.de/de/stadterlebnis/kultur-events/museen. (Website in German.)
Which cultural institutions belong to the Culture in Hessen umbrella brand?
Museum Wiesbaden - Hessian State Museum of Art and Nature
Hessian State Museum Darmstadt (Hessisches Landesmuseum Darmstadt)
Museumslandschaft Hessen Kassel
Saalburg Roman Fort (ALMhessen - Hessen State Archaeological Museum)
The World of the Celts at the Glauberg (ALMhessen - Hessen State Archaeological Museum)
State Castles and Gardens of Hesse
---
"Come and discover Hessen" flyer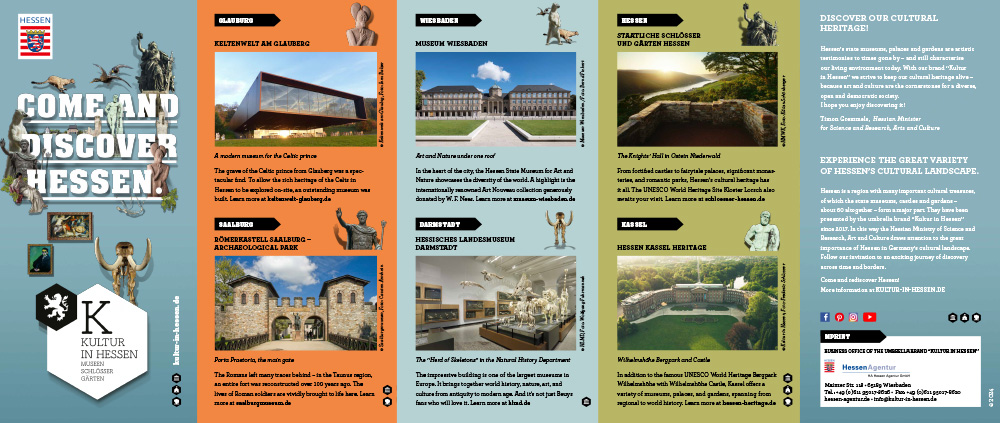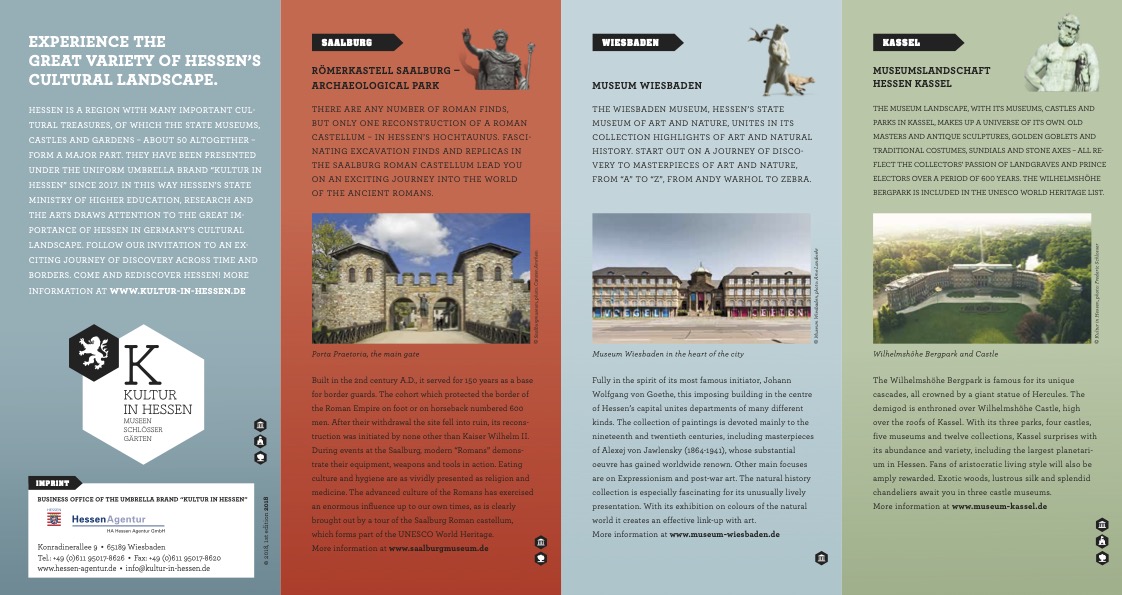 Experience the diversity of the Hessian cultural landscape:
Download flyer in English (660 KB)
By clicking on this link you leave the Kultur in Hessen website and will be redirected to the website of Twitter. Please note that personal data will be transmitted in the process.

Further information can be found in our privacy policy.
By clicking on this link you leave the Kultur in Hessen website and will be redirected to the website of Facebook. Please note that personal data will be transmitted in the process.

Further information can be found in our privacy policy.