Show overview
---
A monumental garden - Osteinscher Niederwald, Rüdesheim (Part 2)
Ever since - at the latest - Friedrich Schlegel's (1772-1829) records of his Rhine journey, beauty in nature has been ascribed above all to the rugged and the wild. "Sublime" was the word of the hour, and mysterious ruins, temples, charcoal burners' huts and caves came into fashion. Embedded in small woods, between hills and landscapes that were reshaped at great expense, they were intended to open up new fantastic worlds to the observer as a sort of walk-in theatre backdrop. Of those first ornamental timber structures that Karl Maxmilian Count von Ostein had constructed in the Niederwald in the last third of the 18th century, none have survived to this day.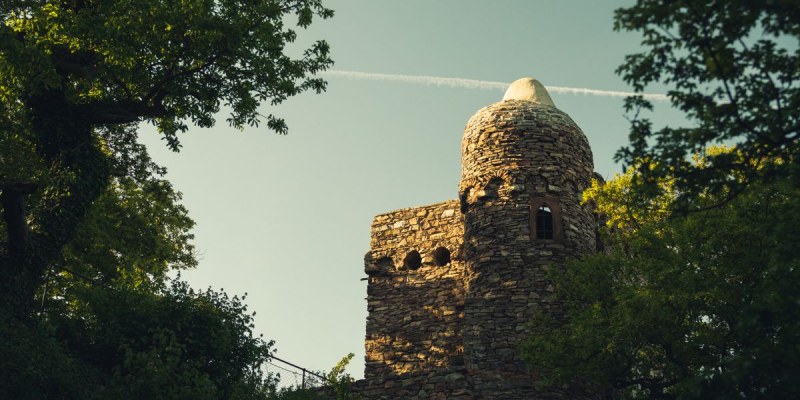 However, their stone successors, which are located at handpicked vantage points, testify quite spectacularly to the ideas that contemporaries of the Romantic period had about inspiring nature. This is particularly true of the so-called Rossel, a fake ruin amongst real ones. The count had the building that was there before it, at the highest point of the Niederwald, demolished. In 1787, he made space for the two-storey stair tower ensemble that visitors enter through the open basement. Even though the theologian Christian Wölfling, who came to visit in 1792, praised the count for having resisted "the addiction to anglicising", Count Ostein's work was not entirely uninfluenced by the horticultural fashion of the time. This is demonstrated, for example, by a small round temple with a domed roof, a reference to antiquity that is very typical of English landscape gardens. The enthusiasm for all things medieval, also a fad at the time, led to the construction of a knights' hall, which Count Ostein was very fond of, but which was demolished after 1866.
What gave the count the idea for a magic cave, however, is a riddle that has still not been solved. The 30-metre-long structure made of quarry stone still gives visitors today great pleasure with its optical and psychological illusions. The life-sized stone magician that walkers passed on their way through the gloominess and that gave Count Ostein's contemporaries the creeps, has today been replaced by a metal silhouette. The narrow passage of the magic cave, however, leads into the magic hut just as it did then, and from there, the view opens into the aisle of Vautsberg ruins, known since 1829 as Rheinstein Castle - a staged view, castle romanticism par excellence.
Previous article in the series:
A monumental garden - Osteinscher Niederwald, Rüdesheim (Part 1)
Next article in the series:
A monumental garden - Osteinscher Niederwald, Rüdesheim (Part 3)
---
---
Gallery
---
Published on 17.08.2018
By clicking on this link you leave the Kultur in Hessen website and will be redirected to the website of Twitter. Please note that personal data will be transmitted in the process.

Further information can be found in our privacy policy.
By clicking on this link you leave the Kultur in Hessen website and will be redirected to the website of Facebook. Please note that personal data will be transmitted in the process.

Further information can be found in our privacy policy.