UNESCO World Heritage Site Upper Middle Rhine Valley
Ostein's Niederwald, Rüdesheim
An enchanting forest with an exclusive view of the Rhine
The Ostein Niederwald sits high above the Rhine between Rüdesheim and Assmannshausen, an enchanting landscape monument to horticulture that features temples, display artificial ruins and even a magic cave.
From 1763 onwards, with a great deal of imagination and attention to detail, Count von Ostein (1735-1809) built his summer residence here between the beech and oak trees. Following the principles of English landscape gardening, he created over the decades a network of paths with diverse visual axes and observation points. As a contrast to the light-filled Rhine valley, the dark forest was of particular importance to him, and he aimed to produce varying atmospheres and effects with the interplay of the garden buildings. He did it with great success: Clemens Brentano, creator of the legend of Loreley, immortalised the site in his novel Godwi, or The Stone Image of the Mother, the book considered to be the literary foundation of Rhine Romanticism.
This place is maintained by the State Palaces and Gardens of Hesse.
Begleiten Sie die 'German Roamers' auf ihrer Hessen- Sommerreise (2020) zu spannenden Highlights hessischer Kulturstätten.
Besuchen Sie mit uns das Niederwalddenkmal, den Osteinschen Niederwald, Schloss- und Schlosspark Wilhelmshöhe in Kassel, das Römerkastell Saalburg, die Burg Münzenberg, die Keltenwelt am Glauberg sowie das Schloss Auerbach im Staatspark Fürstenlager.
Mit dem Anklicken dieses Links verlassen Sie die Webseite Kultur in Hessen und werden auf das Internet-Angebot von YouTube weitergeleitet. Bitte beachten Sie, dass dabei persönliche Daten übermittelt werden.

Weitere Informationen finden Sie in unserer Datenschutzerklärung.
---
---
---
Stories
Report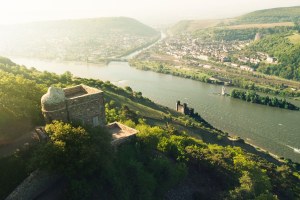 The beginning of Rhine romanticism
A monumental garden - Osteinscher Niederwald, Rüdesheim (Part 1)
Read story
Report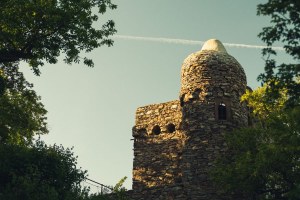 Theatre backdrop and castle romanticism
A monumental garden - Osteinscher Niederwald, Rüdesheim (Part 2)
Read story
Report
An avenue and a colossal statue
A monumental garden - Osteinscher Niederwald, Rüdesheim (Part 3)
Read story
By clicking on this link you leave the Kultur in Hessen website and will be redirected to the website of Twitter. Please note that personal data will be transmitted in the process.

Further information can be found in our privacy policy.
By clicking on this link you leave the Kultur in Hessen website and will be redirected to the website of Facebook. Please note that personal data will be transmitted in the process.

Further information can be found in our privacy policy.