Show overview
---
A monumental garden - Osteinscher Niederwald, Rüdesheim (Part 3)
Since major restoration work under the leadership of the State Palaces and Gardens of Hessen in the first decade of the 21st century, the Osteinscher Niederwald has once again unfurled its romantic charm and makes the landscape of the middle Rhine accessible and discoverable in a unique way. Today's visitors can no more escape the magic than the hikers in the 18th and 19th centuries, who described their experiences impressively. But not all its features appear spectacular at first glance. For example, have you ever strolled down the Große Allee ("large boulevard")? It runs straight as a candle through the forest and was once intended as a monumental avenue connecting Ostein Palace in Geisenheim with the manorial house. Today, individual poplars make its route traceable.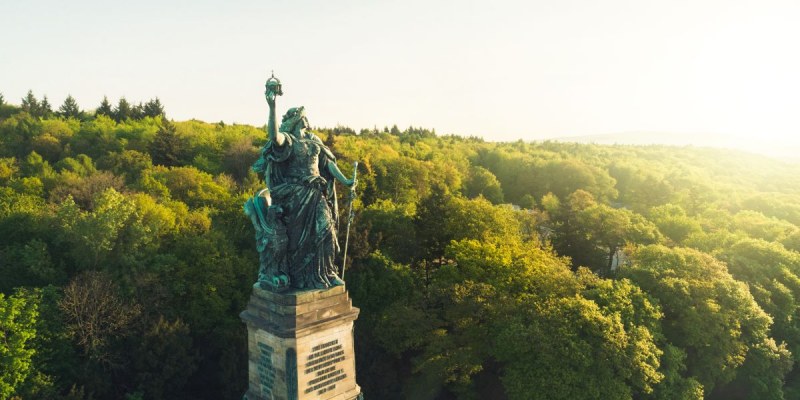 The avenue may look like an ordinary wide forest path, but the story of its origin is quite something. The Niederwald remained a large construction site for years after the work began. What in modern forestry can be achieved with heavy equipment in a few days or weeks, in those days took a great deal of time and above all, what we today would call manpower. Hundreds of day labourers used muscle power, shovels, spades and explosives to turn a simple idea of Count Johann Friedrich Karl Maximilian von Ostein's (1735-1809) into a kilometre-long reality - and it's possible to still walk along 1.6 kilometres of it today. Even though the avenue cost more money than all the ornamental buildings put together, it wasn't possible to fully realise it. The connection to the manorial house remained an idea and the desired visual axis never came into being. Nevertheless, the sheer scale of the project commanded the respect of guests - the count had achieved his goal.
The most formidable addition to the Niederwald, however, came in the 19th century, long after the demise of the first lord of the manor: the Niederwald Monument. At a cost of 1.2 million marks, the work of the sculptor Johannes Schilling (1828-1910) and the architect Karl Weißbach (1841-1905) was one of the most expensive and elaborate monuments in the young empire. The 32-tonne sculpture is enthroned 225 metres above the Rhine, on a base of Main sandstone and quartzite. Just over 12 metres tall, Germania towers above its forested surroundings. Every detail of the richly symbolic behemoth reflects the struggle for a national identity and the political wrangling of the time. Both the imperial eagle and allusions to German legends and fairy tales are present. And so, in its literally outstanding way, Germania also contributes to giving this special place and its protective spirit a visual and tangible appearance.
Previous article in the series:
A monumental garden - Osteinscher Niederwald, Rüdesheim (Part 2)
---
---
Gallery
---
Published on 28.09.2018
By clicking on this link you leave the Kultur in Hessen website and will be redirected to the website of Twitter. Please note that personal data will be transmitted in the process.

Further information can be found in our privacy policy.
By clicking on this link you leave the Kultur in Hessen website and will be redirected to the website of Facebook. Please note that personal data will be transmitted in the process.

Further information can be found in our privacy policy.