Show overview
---
An extraordinary modernism collection – New Gallery (Part 2)
The break between the documenta and the normal exhibition schedule is a welcome opportunity for value-preserving work on both the art and the building that is rarely possible whilst the museum is open to the public. After the crowds that each documenta draws in disappear again, major cleaning and fresh paintwork are necessary. The cleaners and craftsmen have to keep their distance from the artworks to avoid the risk of them being damaged or, in the case of parts of Joseph Beuys' works, fall victim to energetic cleaning.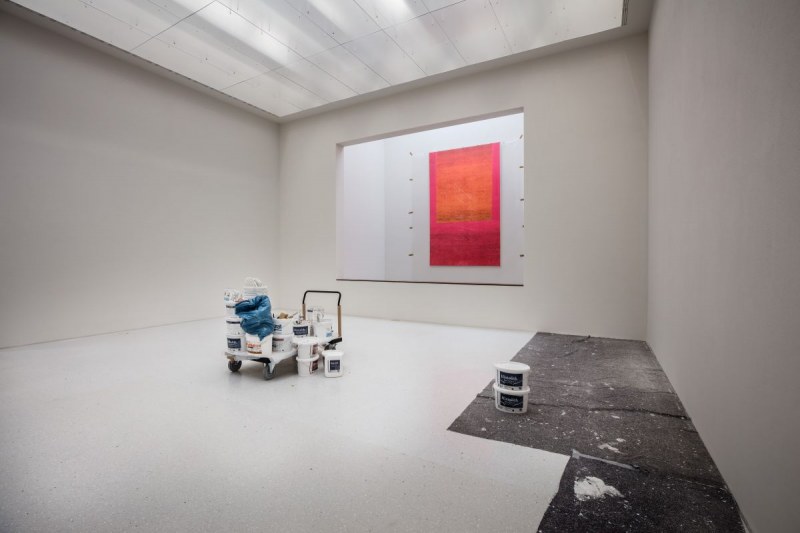 The care and therefore the preservation of the value of the art objects is in the hands of their conservators. Among them are specialists for different materials. Some specialise in paints, others in textiles, wood, ceramics, paper, leather, stone, glass or metal. "It is important to us to preserve the identity of each work," explains Julia Dummer, who works at the Neue Galerie. The textile conservator is currently moving boxes and in the process, she finds herself inside a work of art: "Kasseler Raum - Ferne Zwecke" (1998) by Ulrike Grossarth. The room installation is one of the contemporary collection's acquisitions from the world-renowned documenta in 2001. The installation comprises blackboards, large tables with three-dimensional components and a projection - when the room is not being used as a workplace.
Walking through the Neue Galerie, one discovers the legacies of many great artists, including Ai Weiwei. Not all visitors may be aware that the chairs in the lounge of the basement - each a unique piece - belonged to artwork by the Chinese artist. Some of the 1001 antique wooden chairs that Ai Weiwei imported from China for documenta 12 normally stand here, but now they are protected in the archive, undergoing maintenance work. Ai Weiwei had distributed the chairs throughout the entire documenta exhibition to represent the 1001 Chinese people, including himself, who came to Kassel as part of his artwork, "Fairytale".
Previous article in the series:
An extraordinary modern art collection – New Gallery, Museumslandschaft Hessen Kassel (Part 1)
Next article in the series:
An extraordinary modernism collection – New Gallery, Museumslandschaft Hessen Kassel (Part 3)
---
---
Gallery
---
Published on 11.01.2019
By clicking on this link you leave the Kultur in Hessen website and will be redirected to the website of Twitter. Please note that personal data will be transmitted in the process.

Further information can be found in our privacy policy.
By clicking on this link you leave the Kultur in Hessen website and will be redirected to the website of Facebook. Please note that personal data will be transmitted in the process.

Further information can be found in our privacy policy.