Show overview
---
An extraordinary modernism collection – New Gallery, Museumslandschaft Hessen Kassel (Part 3)
Thanks to the documenta, the Beuys installation, "The Pack", also found its way into the Neue Galerie. In 1976, Joseph Beuys set up a room dedicated to himself that housed an old VW bus and sledges that appeared to move in opposite directions. For its proud owner, the state of Hessen, the work is a challenge. The materials used are diverse: the bus, wooden sledges with leather straps and felt, display cases, drawings and three-dimensional pictures. Initially exhibited on loan, the ensemble was purchased in 1993 with the support of the Hessian Cultural Foundation and the Cultural Foundation of the Federal States.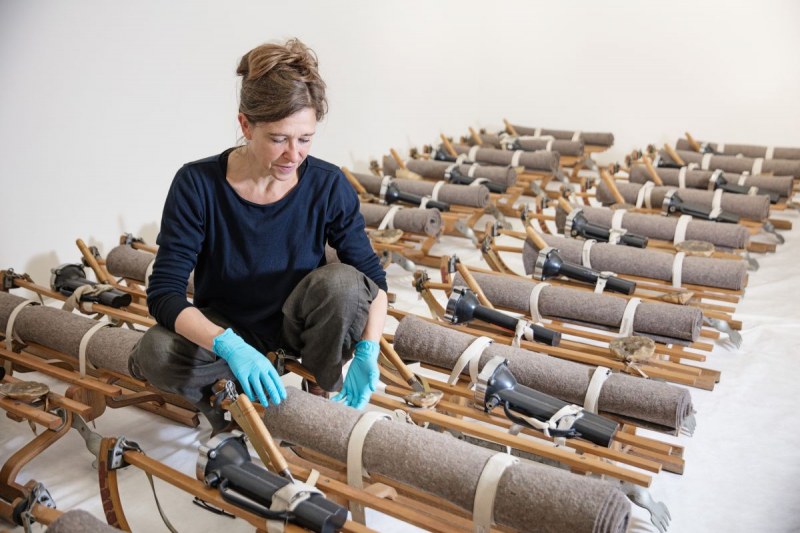 "The conservators' work on and with the objects is very diverse. That is why for particular tasks, there are intensive discussions with experts from other related disciplines," explains Julia Dummer, who studied conservation and restoration with a focus on textiles. In the case of The Pack, the expertise of biologists and physicists is also sought after. The torn wool Beuys used is popular with moths. "The reconstruction period after documenta 14 provides an opportunity for nitrogen treatment to counter the risk of pests." For this purpose, a gas-tight tent is erected in the Beuys room, and Beuys' entire installation is deprived of oxygen for several weeks - a procedure that is non-toxic and harmless to the art.
Such intensive treatment isn't possible during ongoing exhibitions because the Beuys room is one of the museum's most-visited highlights. During the museum's normal operations, a less intrusive procedure is advised. Monitoring measures indicate a possible pest infestation, and the pests are controlled with the help of tiny beneficial insects - a type of ichneumon wasp that is a natural enemy of moths. The ichneumon wasp lays its eggs in the moth eggs and in doing so, successfully attacks the pests. The method is tried and tested and harms neither art nor humans. For one thing is clear: out of consideration for visitors and staff, toxic substances cannot be used in public spaces. Julia Dummer is glad, also with regard to her own health, that biocides are no longer used today and that other non-toxic methods are available instead. Nevertheless, the conservator knows that "we do what we can to preserve museum objects, but with sensitive materials such as felt, even conservators are to a certain extent only working against time".
Previous article in the series:
An extraordinary modernism collection – New Gallery (Part 2)
---
---
Gallery
---
Published on 22.02.2019
By clicking on this link you leave the Kultur in Hessen website and will be redirected to the website of Twitter. Please note that personal data will be transmitted in the process.

Further information can be found in our privacy policy.
By clicking on this link you leave the Kultur in Hessen website and will be redirected to the website of Facebook. Please note that personal data will be transmitted in the process.

Further information can be found in our privacy policy.