Show overview
---
Birthplace of a legend - Frankenstein Castle, Mühltal (Part 2)
Ralph Eberhardt heads into a room in an outbuilding of the castle to which "only very few are allowed access". It's chaos at first glance, but then silhouettes begin to appear: monsters, witches and vampires. Other props such as swords and severed arms are lying next to the masks - it is a warehouse of horror. "This is where the staff gets changed when we go monstering," Eberhardt says, laughing. He is talking about Halloween, the event that keeps the Frankenstein myth alive in the collective memory today. "We have most of the monsters here," says Ralph Eberhardt. "Monstering" at Frankenstein Castle means that there are some hundred people in disguise awaiting visitors. Up to 25,000 people come here at the beginning of November to celebrate and get spooked. The US-American festival is one of Frankenstein Castle's most important events.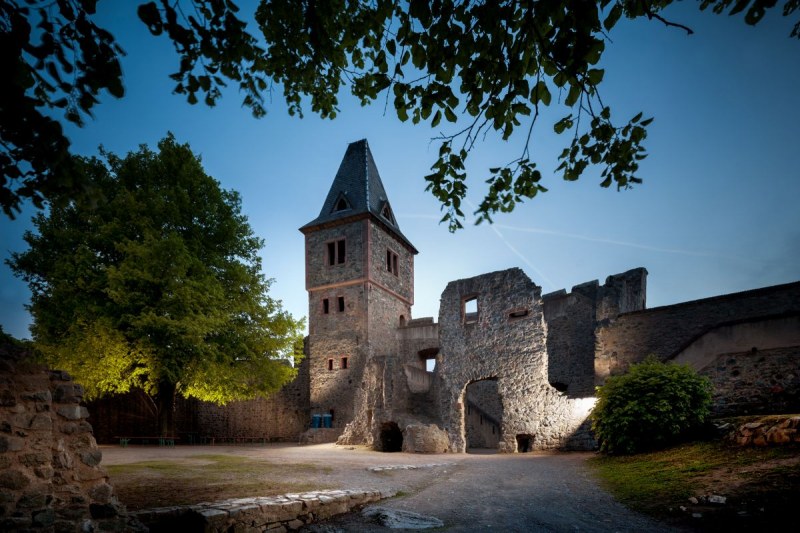 It was Halloween that brought the current owner to the castle. "I started here as a security guard, and then there was a vacancy for a werewolf," says Eberhardt. That was more than 20 years ago, and since then Ralph Eberhardt has done every job there is to do here: security, werewolf, tortured person, executioner. Then he joined the organisational team, became press spokesman and now he is the master of it all - the leaseholder of the castle. The "monsters" of Frankenstein Castle are like a family, says Ralph Eberhardt. Once you've been part of it, you always come back. But although he's been associated with the castle for so many years, the question still comes up: why does he do it? No matter how beautiful the view and the sunset, a castle is anything but a simple piece of real estate. So why does he do it? First, of course, there is the dream of having your own castle. "We talked about it ten years ago," he explains. At first the whole thing was more of a joke, a joke that became serious - a challenge that was unparalleled. And that is what, ultimately, provoked him to take it over.
When Eberhardt talks about what he plans to do with the castle, the ideas just bubble up out of him. He wants to strike a balance between modernity and tradition. Soon there will be free wifi access at the castle. Anyone who takes a photo at Frankenstein Castle can post it across all social media - free advertising. The cyclists who come here anyhow are a popular target group; the same applies to hikers, who often start their tours at Frankenstein Castle, the first castle on the Odenwald chain. There are other beautiful castles here, Eberhardt admits. "But we have the view." It's an unbeatable advantage that he wants to make use of.
Previous article in the series:
Birthplace of a legend - Frankenstein Castle, Mühltal (Part 1)
Next article in the series:
Birthplace of a legend - Frankenstein Castle, Mühltal (Part 3)
---
---
Gallery
---
Published on 26.07.2018
By clicking on this link you leave the Kultur in Hessen website and will be redirected to the website of Twitter. Please note that personal data will be transmitted in the process.

Further information can be found in our privacy policy.
By clicking on this link you leave the Kultur in Hessen website and will be redirected to the website of Facebook. Please note that personal data will be transmitted in the process.

Further information can be found in our privacy policy.