Frankenstein Castle, Mühltal
Romantic castle high above the Rhine
Contrary to legend, Frankenstein Castle has no connection with the famous Mary Shelley novel, but takes its name from the lords of the castle. Situated on the Bergstrasse, south of the city of Darmstadt, the castle offers expansive views over the Rhine valley. Its location deep in the forest invites you to explore.
Those who climb to the top of the tower will be rewarded with magnificent views. The castle has been continuously extended over time and is made up of parts built during different centuries. The heart of the castle, where the walls of the residential and kitchen buildings have been preserved, is the oldest structure. Kennels from the Middle Ages shielded the inhabitants, who were also able to protect themselves from danger by means of a drawbridge, the traces of which can still be seen on the gate tower. In the outer area - the outer bailey - the chapel has been preserved, and gravestones reveal some of the last castle inhabitants. In the autumn, the castle is a popular destination for Halloween fans, but geocaching is possible all year round.
The castle grounds are freely accessible.
This place is maintained by the State Palaces and Gardens of Hesse.
---
---
---
Stories
Report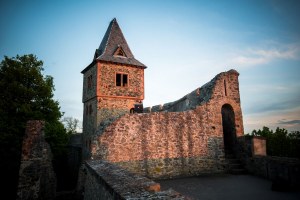 Castle romance with a view
Birthplace of a legend - Frankenstein Castle, Mühltal (Part 1)
Read story
Report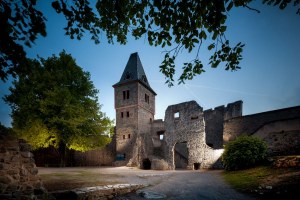 Between modernity and tradition
Birthplace of a legend - Frankenstein Castle, Mühltal (Part 2)
Read story
Report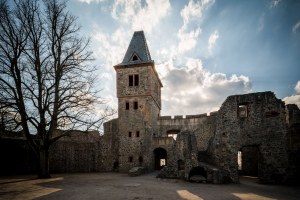 Transformation into a modern destination
Birthplace of a legend - Frankenstein Castle, Mühltal (Part 3)
Read story
By clicking on this link you leave the Kultur in Hessen website and will be redirected to the website of Twitter. Please note that personal data will be transmitted in the process.

Further information can be found in our privacy policy.
By clicking on this link you leave the Kultur in Hessen website and will be redirected to the website of Facebook. Please note that personal data will be transmitted in the process.

Further information can be found in our privacy policy.