Show overview
---
Birthplace of a legend - Frankenstein Castle, Mühltal (Part 1)
It's the birthplace of a legend. Here on the edge of the Odenwald sits Frankenstein Castle, said to have given its name to one of the most famous books in world literature: Mary Shelley's "Frankenstein". Legend has it that Johann Konrad Dippel, a doctor and alchemist, conducted electrical experiments here. Or was it with parts of dead bodies? In any case, all that was needed for a gripping novel was the vivid imagination of the writer Mary Shelley, who travelled on the Rhine at the beginning of the 19th century and probably learned about Dippel and what he got up to there. The myth inspires authors and filmmakers to this day, even if none of it corresponds to the facts. Frankenstein Castle, Johann Konrad Dippel, Mary Shelley, Frankenstein's monster: pure horror, one might think.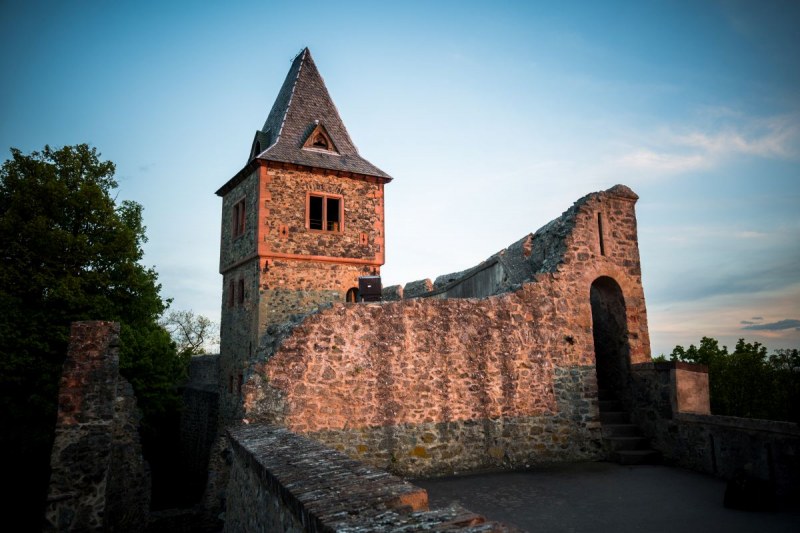 Frankenstein Castle is situated picturesquely on the first elevation of the Odenwald, clearly visible from afar. For the hiker who wants to conquer this steep mountain it's not so much horror, but perhaps a shiver down the spine. It's worth it, however: once at the top, when the weather is good, there is a view that is unique in the region, particularly captivating when the sun is setting, its rays bathing the countryside in a sea of orange light. From here, the skyline of Frankfurt am Main in the distance looks like tranquillity itself, not a vibrant metropolis. The shimmering, silvery Rhine, the Taunus and the Spessart are all seen from the castle battlements - a romantic dream. It's a backdrop that still captivates visitors once the sun has set and the castle stands in twilight, proud and beautiful. This is when one gets a sense of why a monster legend might have its origins here. It is, of course, also cultivated by Ralph Eberhardt, the castle's leaseholder. He's a friendly man who steps through the castle gate with a springing step. He enjoys showing off his empire.
Eberhardt looks after the castle and its restaurant, and makes sure that the Frankenstein myth comes into its own when Halloween is celebrated here for ten days every year. He "fulfilled a dream" when he leased the castle, and now he wants as many people as possible to see the legend, the sunset, the scenery, the restaurant and the castle. And he wants to overhaul everything: there's yoga in the courtyard, food pairing courses in the restaurant, where guests learn which flavours harmonise with each other (and which flavours don't) and, of course, weddings. There were a lot of those already: 160 couples got married here last year in the small chapel that stands outside the castle walls.
Next article in the series:
Birthplace of a legend - Frankenstein Castle, Mühltal (Part 2)
---
---
Gallery
---
Published on 05.10.2017
By clicking on this link you leave the Kultur in Hessen website and will be redirected to the website of Twitter. Please note that personal data will be transmitted in the process.

Further information can be found in our privacy policy.
By clicking on this link you leave the Kultur in Hessen website and will be redirected to the website of Facebook. Please note that personal data will be transmitted in the process.

Further information can be found in our privacy policy.