Show overview
---
Concentrated technology for a comfortable climate - Museum of Hessian History (Part 2)
Benjamin Groß starts his working day with a tour. His enormous bunch of keys reveals that his morning and evening duties are a decent chunk of work. "I do the rounds for a good hour and a half until everything's up and running or been shut down again," reports the electrical engineer. His route takes him through the traditional layout of the museum with its five wings and two inner courtyards as well as a striking centrally-placed tower. In contrast to Kassel's badly-damaged city centre, the museum survived the Second World War with only minor damage, and so the Old Masters Picture Gallery was initially housed here. After the reconstruction of the New Gallery and Wilhelmshöhe Palace, the collections of Kassel's state museums were reorganized.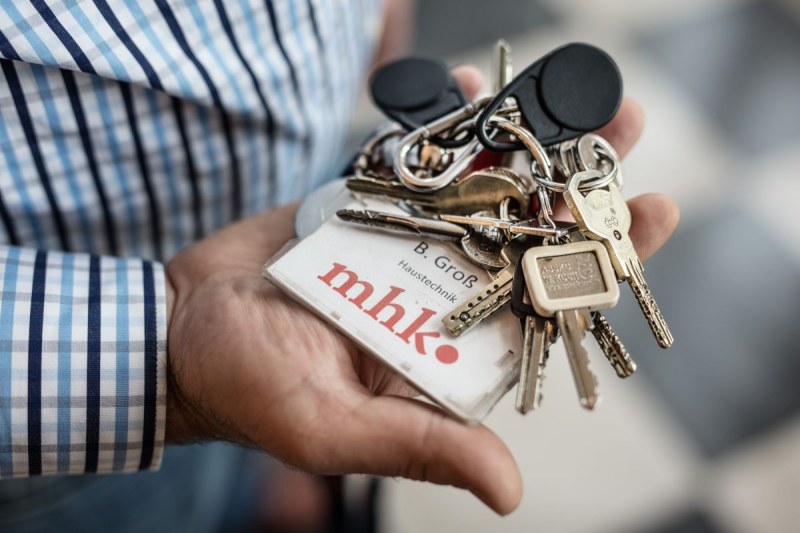 The most beautiful room in the museum architecturally-speaking is the Hall of Antiquities, which was originally intended for the landgrave's collection of antiques. The many small spotlights in the ceiling set off the stucco features and bathe the room in bright light. This means, from the perspective of the building services department, that there are many small LEDs that need to work. The restoration of the wall openings has made it possible for visitors to experience the original spatial impressions of the room.
Anyone visiting the State Museum today can marvel at 300,000 years of Hessian state and cultural history. Landgrave Carl had grave mounds examined as early as 1704, and the majority of the North Hessian archeological finds are still here in this Kassel collection. Some exhibits, such as a wooden agricultural seed drill weighing over 350 kilograms, hang above visitors' heads. Benjamin Groß and his team not only provide the lighting under the glass roof of the inner courtyard, but also the automatically-controlled shading devices. The State Museum also uses modern media to make history come alive, such as video documents about the occupation after the Second World War. Who is responsible for the continuous loop projection? Building services, of course.
Previous article in the series:
Concentrated technology for a comfortable climate – Museum of Hessian History (Part 1)
Next article in the series:
Concentrated technology for a comfortable climate - Museum of Hessian History (part 3)
---
---
Gallery
---
Published on 24.05.2019
By clicking on this link you leave the Kultur in Hessen website and will be redirected to the website of Twitter. Please note that personal data will be transmitted in the process.

Further information can be found in our privacy policy.
By clicking on this link you leave the Kultur in Hessen website and will be redirected to the website of Facebook. Please note that personal data will be transmitted in the process.

Further information can be found in our privacy policy.