Show overview
---
Concentrated technology for a comfortable climate - Museum of Hessian History (part 3)
With pinpoint accuracy, countless lighting fixtures set the stage for around 6,000 exhibits across three floors. For example, in cabinets displaying all manner of tools from trades such as glassblowing and basket weaving. Or a room-filling installation such as the Strube weaving mill, which has long since become obsolete in real life.
On the second floor of the State Museum, the "Treasury of History" takes visitors even further back in time to the reign of Wilhelm IV, 1567 to 1592. Wilhelm IV was the founder of the Hessen-Kassel dynasty line. One painting depicts him with his 14 children, not all of whom, however, reached adulthood. The core of the exhibition, which is impressive in both its size and magnificence, goes back to his collection.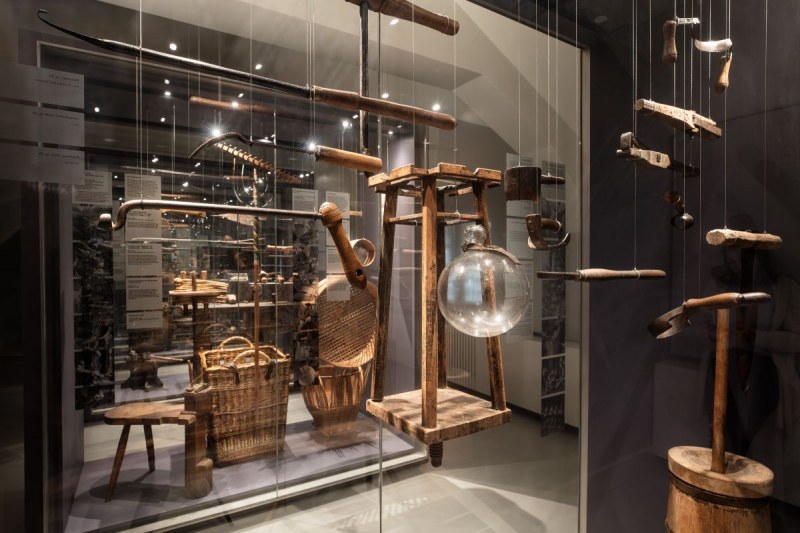 Beginning with ecclesiastical and secular treasures, the Landgrave collected art objects made of gold and silver, glass, ceramics and porcelain, ivory and amber. The Nautilus Goblet, a goblet set in gold with an exposed layer of mother of pearl, testifies to both the splendid court culture and the ruler's zeal for collecting. In the display cabinets of the treasure chamber are a historical glass collection, Meissen porcelain, and exhibits from the royal porcelain gallery from China and Japan.
In the early modern period, the focus of the collection shifted in favor of knowledge about the world. As an educated royal of the Renaissance, Landgrave Moritz, known as "The Scholar", was, in addition to expanding the art chamber collection, enthusiastic about astronomy. He commissioned craftsmen to make technical devices that he also classified as objects of the collection and in this way, assigned a new high status to science. The Landgrave, who was interested in science, would probably have been delighted about the possibilities of building technology as it is used today in the State Museum.
Previous article in the series:
Concentrated technology for a comfortable climate - Museum of Hessian History (Part 2)
---
---
Gallery
---
Published on 09.07.2019
By clicking on this link you leave the Kultur in Hessen website and will be redirected to the website of Twitter. Please note that personal data will be transmitted in the process.

Further information can be found in our privacy policy.
By clicking on this link you leave the Kultur in Hessen website and will be redirected to the website of Facebook. Please note that personal data will be transmitted in the process.

Further information can be found in our privacy policy.