Show overview
---
A royal gift - Prince George Garden, Darmstadt (Part 3)
The Prince George Garden was a family affair from the very start. Not only was it to begin with the gift of a father, but the enthusiasm for the garden was passed on by the grand ducal family from generation to generation. Landgrave Ludwig X of Hessen-Darmstadt (1753-1830, later Grand Duke Ludewig I) also continued what his ancestor, Landgravine Caroline, had begun in around 1766: he had the garden transformed into a landscape park.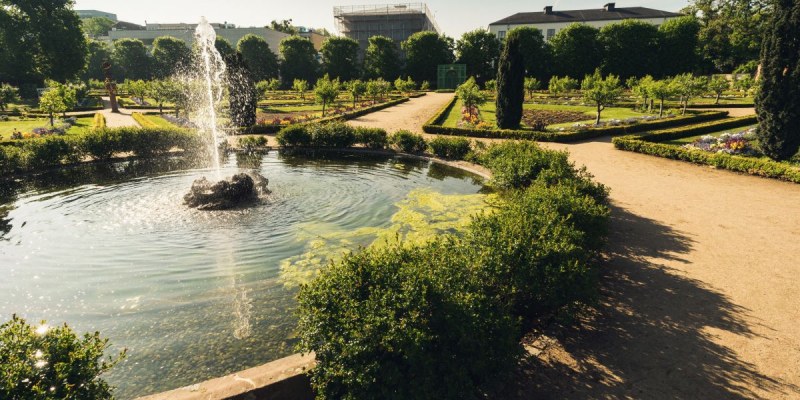 An English jack-of-all-trades called Lancelot "Capability" Brown (1716-1783) had sent an English trend on a journey across the whole of Europe. At a time when ladies tiptoed around in tightly-laced corsets with their hair piled high on their heads, he prescribed more naturalness for England's stiff formal gardens and parks. The English landscape garden was born, displacing the all-powerful French model of Versailles from the top spot in European garden fashions.
The enthusiasm for this new style soon reached German lands. Despite this, the formal areas of the main parterre and palace garden, now considered old-fashioned, were preserved in the Prince George Garden. Prince George-Wilhelm's widow, often affectionately known as "Princess George", saw to that - she even had the preservation and maintenance of the garden area stipulated in her will. So, it is thanks to her shrewd foresight that we can still enjoy this green treasure today, in all its cheerful elegance.
Previous article in the series:
A royal gift - Prince George Garden, Darmstadt (Part 2)
---
---
Gallery
---
Published on 03.08.2018
By clicking on this link you leave the Kultur in Hessen website and will be redirected to the website of Twitter. Please note that personal data will be transmitted in the process.

Further information can be found in our privacy policy.
By clicking on this link you leave the Kultur in Hessen website and will be redirected to the website of Facebook. Please note that personal data will be transmitted in the process.

Further information can be found in our privacy policy.