Show overview
---
A royal gift - Prince George Garden, Darmstadt (Part 2)
Walking through the Prince George Garden today, one doesn't immediately notice that the entire grounds once comprised two separate parts - only the two end points of the main and transverse axes still suggest this. On one side is the Prince George Palace, nicknamed the "Porcelain Palace". Landgrave Ernst Ludwig, who ruled between 1678 and 1739, housed his Grand Ducal Hessian collection of 'white gold' here. Porcelain was still an extraordinary luxury in the 18th century, and deserved its own building. On the other side is the summer house of the count's son-in-law, Lieutenant General Johann Rudolf von Pretlack. In those days, the building already served as an orangery.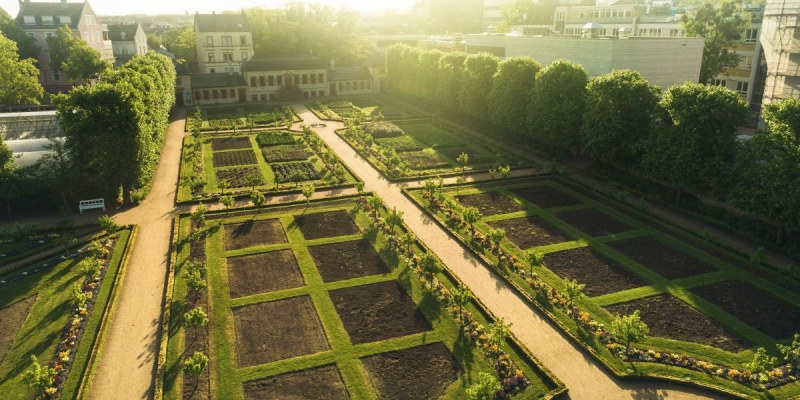 Just like the porcelain, demanding plants from the land where lemons grow were considered one of the era's prestige items - royal must-haves, so to speak. It was a trend that the Sun King sent across all of Europe from Versailles, and which lingers even today. Anyone who thought anything of themselves in those days cultivated these delicate beauties from the balmy south, well protected behind large glass windows in winter and in summer, decoratively displayed outdoors in front of their winter quarters, usually in specially-made wooden containers.
Rather fittingly, the garden-facing façade of Pretlack's summer house was adorned with paintings of orange trees. These faded over the centuries, of course, and not just two world wars left their brutal traces in the building's history. Since 2001, however, the façades of the building's small wings and its flanking pavilions shine in their original splendour. Architecture and garden once again merge into one, as was so en vogue at the time of their origin.
This also applies to the garden theatre with its tea house, located in the Orangery Garden. In this part of the garden, which was often used as a theatre backdrop, shrubs were cut into austere cubes and angular shapes, a design element that's still very popular on a smaller scale in formal home gardens today. And much like garden lovers now, the aristocratic contemporaries of the time liked to sit in the cool shade on stone benches, where they met for a chat or, well shielded by the tall topiary plants, sometimes for a rendezvous - another popular pastime of the luxury-loving Rococo society.
Strolling along the wide paths of the palace garden or the main parterre past dwarf and espalier fruit trees, visitors can experience the cheerful, festive attitude towards life that was typical of the period. The trees are integrated into a rigid framework of symmetrical flower beds, amidst flowers, herbs and vegetable plants - evidence of a clever concept that combines ornamental and kitchen gardens.
Previous article in the series:
A royal gift - Prince George's Garden, Darmstadt (Part 1)
Next article in the series:
A royal gift - Prince George Garden, Darmstadt (Part 3)
---
---
Gallery
---
Published on 05.07.2018
By clicking on this link you leave the Kultur in Hessen website and will be redirected to the website of Twitter. Please note that personal data will be transmitted in the process.

Further information can be found in our privacy policy.
By clicking on this link you leave the Kultur in Hessen website and will be redirected to the website of Facebook. Please note that personal data will be transmitted in the process.

Further information can be found in our privacy policy.