Prince George Garden, Darmstadt
Rococo garden design
Those who stumble upon the horticultural jewel next to the Technical University of Darmstadt are treated to a visit to a very special kind of garden. Planned according to all the rules of 18th century garden design, it combines decorative flower beds with vegetable patches and fruit trees.
The aim was to combine the beautiful with the practical. Named after its creator, Prince Georg-Wilhelm von Hessen-Darmstadt, the garden is laid out in the geometric structure typical of the time. The garden was used as a summer residence, and its hedges had various functions: as protection from the wind and prying eyes, but also as a theatrical backdrop. In addition to the plants, there are seating niches, sundials, water features and artistic murals providing relaxation and pleasure. From April to October, the palace (palais) is open to visitors of the Grand Ducal-Hessian Porcelain Collection; a public reading room is available in the summer house.
This place is maintained by the State Palaces and Gardens of Hesse.
---
---
---
Stories
Report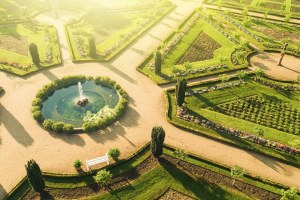 A rural refuge in the centre of the city
A royal gift - Prince George's Garden, Darmstadt (Part 1)
Read story
Report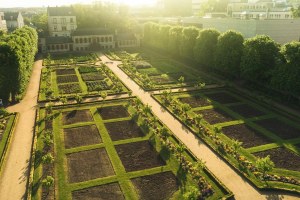 A cheerful, festive attitude towards life
A royal gift - Prince George Garden, Darmstadt (Part 2)
Read story
Report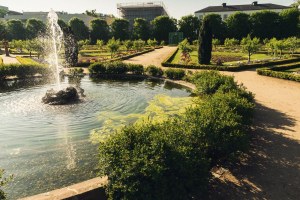 A cheerful and elegant green treasure
A royal gift - Prince George Garden, Darmstadt (Part 3)
Read story
By clicking on this link you leave the Kultur in Hessen website and will be redirected to the website of Twitter. Please note that personal data will be transmitted in the process.

Further information can be found in our privacy policy.
By clicking on this link you leave the Kultur in Hessen website and will be redirected to the website of Facebook. Please note that personal data will be transmitted in the process.

Further information can be found in our privacy policy.