Show overview
---
Astronomy, the oldest and most beautiful of all the sciences - interview with Dr Karsten Gaulke (Part 2)
Since 1992, there has been in addition to the collection here in the Orangery in Kassel a planetarium, which last year received a new and very modern projector. A not exactly tiny investment. Why do planetariums still enjoy such great popularity?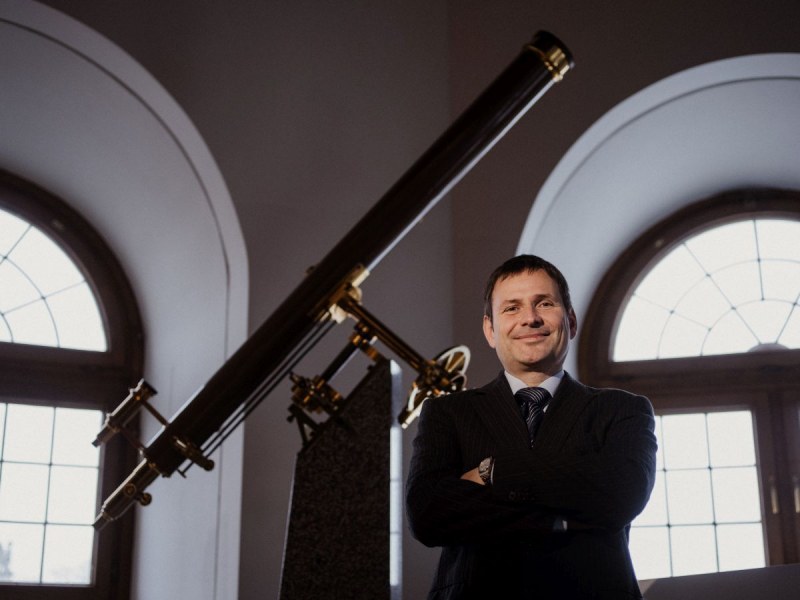 In a planetarium it is possible to present astronomy as a natural science on an emotional level. Our projector - the modern form of a planetary clock, if you will - can show the starry sky of any place on earth in a period from 15,000 years before Christ to 15,000 years after Christ. Here, bridal couples can see the starry sky not just from the day they met, but from the exact place in which they met. With this, we want above all to reach people who may still have reservations about astronomy. Here in our planetarium, they can let themselves be taken in by a perfect starry sky, free from the air and light pollution of a big city. School classes and families in particular make good use of this opportunity.
Unfortunately, astronomy is not even a standard subject in school...
Yes, that is unfortunately the case. The children of primary and secondary schools in particular don't come into contact with this natural science at all. In the new federal states there are some schools that still offer astronomy in the 10th grade, but the interest in this science seems to be rather small. Yet such rather dry subjects as mathematics could be made more lively by using examples from astronomy. As soon as mathematics has a practical use, as it does in astronomy, pupils are more interested in it. Small children have a natural interest in the starry sky, you don't even have to inspire them. Especially when it comes to questions about putting humans in space, we notice time and again a great interest amongst young and old. Questions like: Who are we? What is the cosmos? How did it come into being? Is there anything outside the cosmos? Is there a creator? Then suddenly religious questions also play a role.
When one travels so far away with one's mind and eyes as frequently as you do, does one actually look at things on earth differently?
Perhaps not differently. I look at Earth with a little more concern, because I know that something as unique as it is, at least within our real and conceptual fields of vision, i.e. our planetary system, only exists once and is therefore a one-off. I am very concerned about the climatic changes that we as humans are triggering and about the distribution of resources, because I know very well that we do not have a reserve Earth on standby. However, when I sit in my observatory in my garden at night and watch the stars, it's sometimes the case that I forget everything around me...
Oh wow, you have your own observatory?
That sounds a bit more impressive than it is. It's basically a garden shed with a separate artificial roof that can be opened using a pulley system. I have a telescope with which I can observe the stars, but also take photographs, especially of deep-sky objects such as galaxies, gas nebulae and the remnants of supernovae.
That's what every child dreams of...
Oh, it sounds more romantic than it is. In winter, you freeze in there at nighttime, and the summer is rather unsuitable for observing and photographing because of the short nights and frequent air turbulence.
Why?
In summer, we often have unstable weather conditions that cause the romantic twinkling of the stars. For an astrophotographer, this is of course counterproductive. Winter is more suitable because the atmospheric layers are calm. Having your own observatory also sounds much more expensive than it is. My 8-inch Newtonian telescope cost just 800€. Add to that a mount and other accessories, and you're still significantly under 3000€. All in all, it's an affordable hobby.
Previous article in the series:
Astronomy, the oldest and most beautiful of all the sciences - interview with Dr Karsten Gaulke (Part 1)
Next article in the series:
Astronomy, the oldest and most beautiful of all the sciences - interview with Dr Karsten Gaulke (Part 3)
---
---
Gallery
---
Published on 28.12.2018
By clicking on this link you leave the Kultur in Hessen website and will be redirected to the website of Twitter. Please note that personal data will be transmitted in the process.

Further information can be found in our privacy policy.
By clicking on this link you leave the Kultur in Hessen website and will be redirected to the website of Facebook. Please note that personal data will be transmitted in the process.

Further information can be found in our privacy policy.