Show overview
---
Travel back in time to the Roman Empire - Roman Fort Saalburg (Part 3)
The first excavations at Saalburg began in the middle of the 19th century, and as a result of what was unearthed, Emperor Wilhelm II ordered the rebuilding of the fort. The reconstruction was carried out right on top of the old Roman foundations and using the information that had come to light during the excavations. In the years that followed, the most comprehensively reconstructed fort of the entire Limes was built. Today, it remains a unique opportunity to visit a Roman border fort "in real life".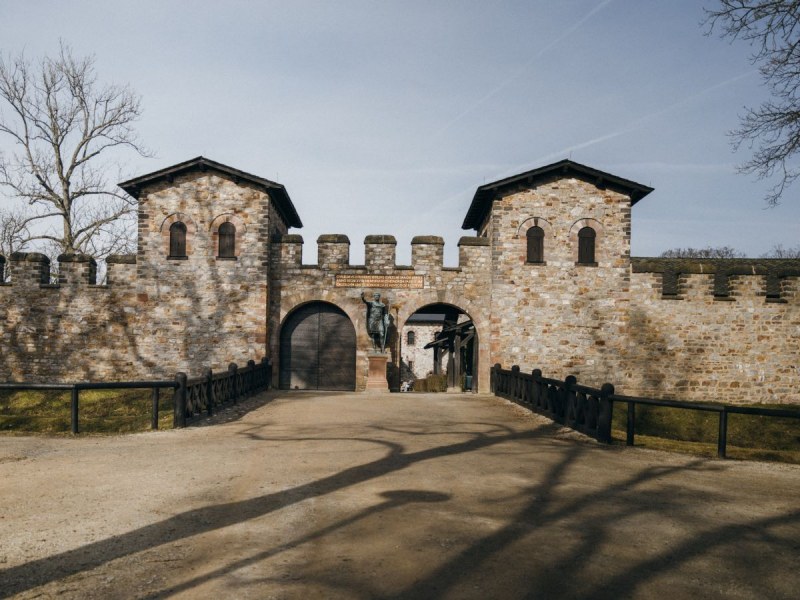 With over 125,000 visitors a year, the Saalburg Roman Fort is undoubtedly one of the most popular archaeological destinations in Hessen. It is considered to be the best-researched and most thoroughly reconstructed fort of the Upper Germanic-Raetian Limes. With its park-like grounds in the middle of the Taunus mountains, visitors can take a realistic journey back to Roman times and experience the way of life on the outer edge of the former empire. In 2005, the Limes - and with it the Saalburg - was even declared a UNESCO World Heritage Site. The commission underlined the meaning and importance of Roman culture for our society today.
As well as its very many interesting exhibits, the Saalburg Roman Fort offers numerous activity days and themed events for young and old. In addition to highlights such as the annual Roman market, the tightly-packed programme throughout the year also includes children's activity days and culinary guided tours, all of which make the Saalburg Fort an excellent destination for excursions.
One last tip from Dr. Carsten Amrhein: "From the railway station in Saalburg Lochmühle, you can explore nature on a wonderful 45-minute walk to Saalburg. Otherwise, take the Culture Bus route from Bad Homburg to Hessenpark, then enjoy a 40-minute walk to Saalburg and come back again by bus!"
Previous article in the series:
Travel back to the Roman Empire - Saalburg Roman Fort (Part 2)
---
---
Gallery
---
Published on 10.08.2018
By clicking on this link you leave the Kultur in Hessen website and will be redirected to the website of Twitter. Please note that personal data will be transmitted in the process.

Further information can be found in our privacy policy.
By clicking on this link you leave the Kultur in Hessen website and will be redirected to the website of Facebook. Please note that personal data will be transmitted in the process.

Further information can be found in our privacy policy.