Show overview
---
From spring to royal park - Fürstenlager State Park, Bensheim-Auerbach (Part 2)
In around 1790, the manor house was surrounded by a sort of walk-in architecture made of trees. Spa guests strolled back and forth between the health fountain and their quarters under the natural canopy of the trees. The double avenue of plane trees close to the manor house were once part of a seven-row tree promenade. Landgrave Ludwig X then created a construction boom: he had the manor house extended and supplemented with large wings for the servants, and set about tackling the park. His assistant to the court gardeners, Carl Ludwig Geiger, drew up the first plans and sought advice from none other than the famous Schwetzingen court gardener Friedrich Ludwig von Sckell (1750-1823). Sckell thought the extensive planting list was beautiful, but unsuitable.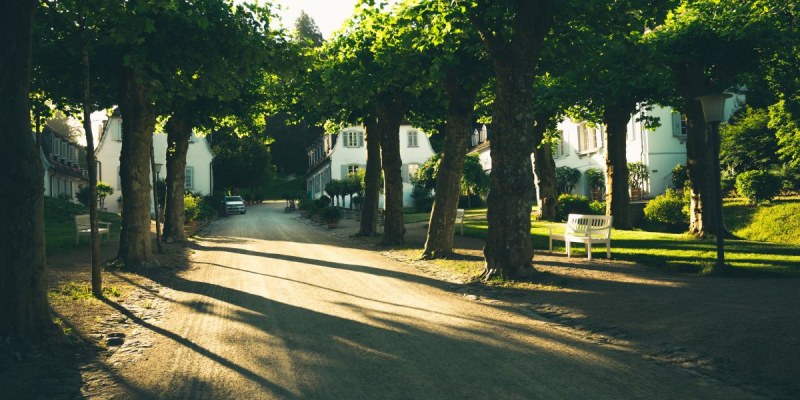 Geiger was not demoralized by this, although the long valley with its steep slopes was difficult to construct and maintain. He limited the ornamental areas to the valley and the crests of the hills. A rose oval, shooting range and an English section were created close to the residence, which the court gardener's assistant made appear larger than it really was by cleverly arranging the lines of sight. In these grounds, which were more private than representative, the avenues played - and continue to play - a special role. Visitors use them to reach pretty vantage points and the curiosities typical of the time, such as the grotto and the hermitage, the enchanting swan pond in front of the guest house and the altar of friendship on the manorial lawn, with its precious arboretum.
The avenues not only serve as a network of paths, but like a tour guide, also take visitors from vista to vista. At their respective destinations, they open up to effectively stage views of the landscape. Poplars, for example, led back in the day from Auerbach to the Fürstenlager - they grew fast and quickly gave the impression of a mature green space. The avenue to Schönberg consisted of fruit trees - apples and pears - and extended to the eastern edge of the park. They were well cared for at the time, and some of the original trees remain today.
Previous article in the series:
From spring to princely park - Fürstenlager State Park, Bensheim-Auerbach (Part 1)
Next article in the series:
From spring to royal park - Fürstenlager State Park, Bensheim-Auerbach (Part 3)
---
---
Gallery
---
Published on 05.04.2018
By clicking on this link you leave the Kultur in Hessen website and will be redirected to the website of Twitter. Please note that personal data will be transmitted in the process.

Further information can be found in our privacy policy.
By clicking on this link you leave the Kultur in Hessen website and will be redirected to the website of Facebook. Please note that personal data will be transmitted in the process.

Further information can be found in our privacy policy.