Show overview
---
The beauty and diversity of the animal world - taxidermists, Museum Wiesbaden (Part 2)
Taxidermists use a different process for soft tissue life forms such as starfish, crabs or shrimps than they do for mammals. A silicone mould of the original is filled with synthetic resin and, if it's available, adapted to the real, preserved shell. Examples of this are the many marine creatures in the nature exhibition that impress visitors with their magnificent colours. These include one of Richter's favourite works, a giant turtle. Wiesbaden is also famous for its collection of butterflies. In the case of insects, other conservation methods are used: preserving in alcohol, or drying.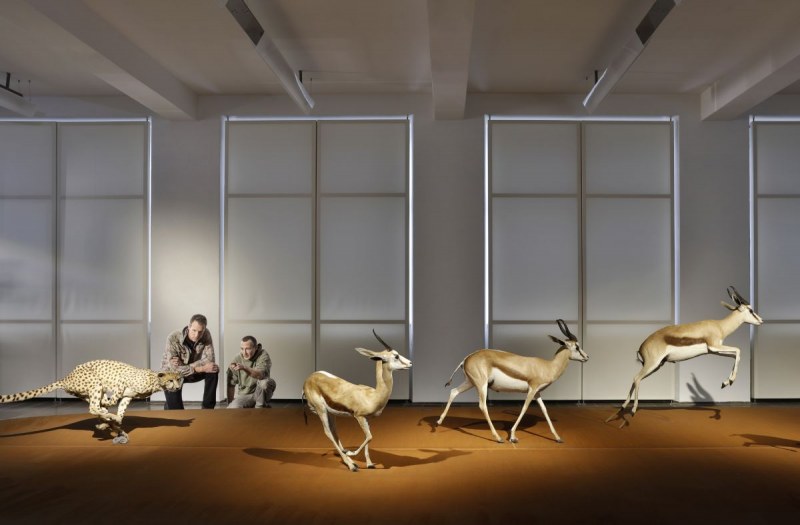 With dioramas - living worlds set in glass - individual animal species are staged in a natural-looking environment that has been conceived and brought to life by the taxidermists. Sometimes they appear so authentic that they can substitute a visit to the zoo. One of Richter and Seehausen's particularly beautiful pieces of work is a room-sized arrangement of an antelope hunting cheetah. In contrast to living animals, Richter and Seehausen's work can be admired in peace and quiet and studied in detail. Dioramas can also illustrate developmental processes, such as that of a larva turning into a butterfly. It's an aesthetic as well as educational way of presenting natural history.
How does one become a taxidermist? For Felix Richter, who is interested in natural history, it was a childhood dream, but he studied geology first - after all, there aren't an awful lot of jobs for taxidermists. Then, he applied to Bochum, to the only taxidermy school in the German-speaking world that awards a state-recognised degree.
Richter describes his drive to take up the multifaceted profession of taxidermy like this: "Through my work, I can make the beauty of animals visible and in this way, contribute to their protection".
Previous article in the series:
The beauty and diversity of the animal world - taxidermists, Museum Wiesbaden (Part 1)
Next article in the series:
The beauty and diversity of the animal world - Taxidermists, Museum Wiesbaden (Part 3)
---
---
Gallery
---
Published on 22.03.2018
By clicking on this link you leave the Kultur in Hessen website and will be redirected to the website of Twitter. Please note that personal data will be transmitted in the process.

Further information can be found in our privacy policy.
By clicking on this link you leave the Kultur in Hessen website and will be redirected to the website of Facebook. Please note that personal data will be transmitted in the process.

Further information can be found in our privacy policy.