Show overview
---
Sometimes we perform first aid - restoration workshop, Museum Wiesbaden (Part 3)
Finding the right balance in restoration is a fine line. In the Middle Ages, works of art were created with the intention of them lasting forever. The "Fettecke" by Beuys or Ilya Kabakov's "Red Wagon", on the other hand, have different requirements. "We can stall deterioration or keep the work in good condition," Unger explains, ideally in dialogue with the artist or their heirs as well as with the owner of the work. "Artists haven't always given thought to how their work will age," adds Bennke. "In such cases, we weigh in our expertise, and consult with curators and other conservators."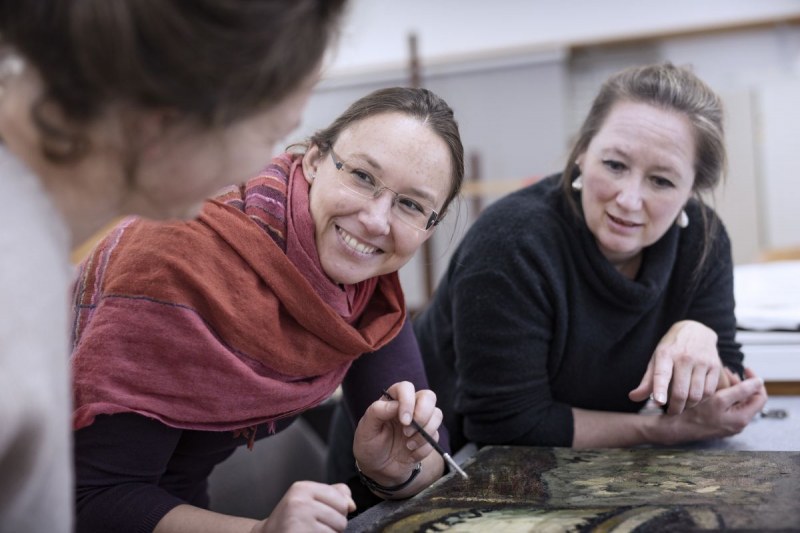 As well as "first aid cases", which artworks end up in her workshop is largely decided by the museum's temporary exhibitions as well as its national and international loans. Bennke is meticulously packing a sculpture to send on its way. The loan of a piece of art is preceded by extensive correspondence between curators. The restorers have an important say in the process: they assess whether a work of art is suitable for loan - whether it can survive the stresses of transportation undamaged, and whether it's in a presentable condition.
To work on the paintings oneself is always a special act - all restorers feel that way. "Every single move, every chosen texture is carefully considered," explains Bennke. Colours, materials and textures are first tested on "dummies" before they are used on the original. Only when a texture meets all the necessary specifications and passes the critical judgement of the team is it applied to the original. Teamwork is generally important in finding the best solution for each individual case - and to continually learn from each other. For this reason, the Wiesbaden restorers are also in contact with other museums, as well as a circle of experts from their profession.
It's clear that with such a wide range of collections, not every work of art will be to one's own taste. What's it like to restore something you don't like? Whilst examining a painting with a floral motif with her colleagues, Linda Schmidt shakes her head. "I don't know. I always find something captivating in the artwork."
Previous article in the series:
Sometimes we perform first aid - restoration workshop, Museum Wiesbaden (Part 2)
---
---
Gallery
---
Published on 17.05.2018
By clicking on this link you leave the Kultur in Hessen website and will be redirected to the website of Twitter. Please note that personal data will be transmitted in the process.

Further information can be found in our privacy policy.
By clicking on this link you leave the Kultur in Hessen website and will be redirected to the website of Facebook. Please note that personal data will be transmitted in the process.

Further information can be found in our privacy policy.