Show overview
---
Sometimes we perform first aid - restoration workshop, Museum Wiesbaden (Part 2)
Today, the paintings and sculptures are in the care of Ines Unger, Anne-Sophie Bennke and Linda Schmidt. In the restorers' workshops, the internationally-defined "museum climate" of 50 degrees humidity and 20 degrees celsius room temperature is consistently kept. It is here that the experts work on the conservation and restoration of the extensive collection. This includes not only examining the inventory, but also restoring them, if necessary, to their old but undamaged condition.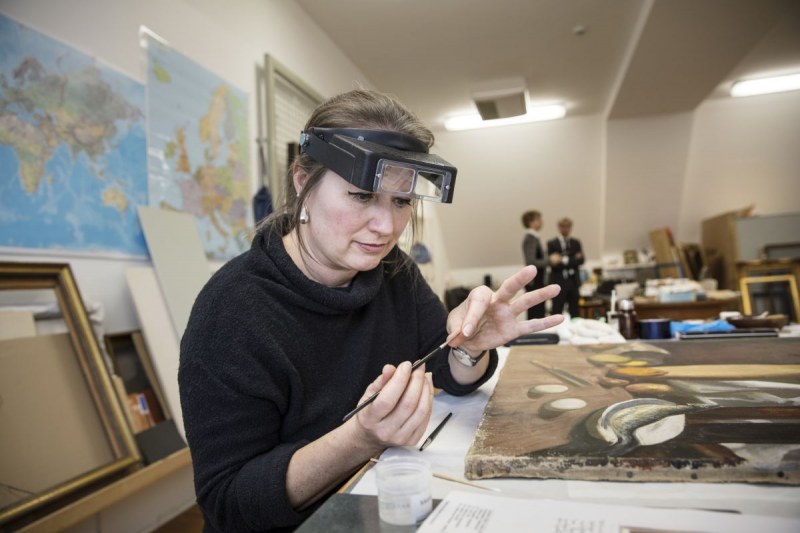 Bennke gives an example what has to be considered prior to an intervention. "If it's necessary for conservation reasons to remove or thin a varnish, you have to proceed very cautiously: once something is removed, it's irreversible. Also, the work of an old master must not all of a sudden look brand new," she points out. Behind restoration techniques using brush, scalpel, glue and pipette, there's not only expertise, but first and foremost a lot of patience and detailed work. "Sometimes you have to take a break and walk around the block," says Unger, who is working with magnifying glasses in front of her eyes on a flower motif. "And some days, I also realise that I'd better not do any precision work on the paintings that day. Then I look for another task or just tidy up, if the schedule allows," she says with a twinkle in her eye, and continues her skilful work for today.
Unger describes her guiding principle: "It's best if afterwards, you can't even see the restorer's intervention". She took basic craft training before learning restoration - at, amongst others, the Palazzo Pitti in Florence. Although she examines works of art as if she was a doctor searching examining symptoms, Unger sees to this day not only what is damaged, but the whole work of art - and with all the necessary respect. All three restorers reject any ideas of being artistically active in their work. "We do not want to interpret or manipulate".
Previous article in the series:
Sometimes we perform first aid - restoration workshop, Museum Wiesbaden (Part 1)
Next article in the series:
Sometimes we perform first aid - restoration workshop, Museum Wiesbaden (Part 3)
---
---
Gallery
---
Published on 08.03.2018
By clicking on this link you leave the Kultur in Hessen website and will be redirected to the website of Twitter. Please note that personal data will be transmitted in the process.

Further information can be found in our privacy policy.
By clicking on this link you leave the Kultur in Hessen website and will be redirected to the website of Facebook. Please note that personal data will be transmitted in the process.

Further information can be found in our privacy policy.