Show overview
---
Sometimes we perform first aid - restoration workshop, Museum Wiesbaden (Part 1)
"Sometimes we perform first aid," explains Ines Unger, who has been looking after paintings and sculptures as a restorer at the Museum Wiesbaden for 23 years. "If a visual inspection reveals loose flakes of paint, for example, we bring the artwork here."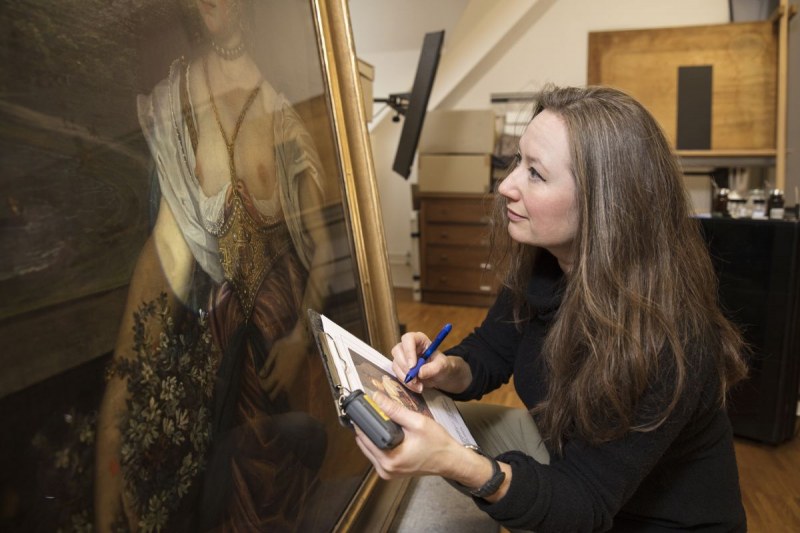 'Here' refers to the restoration workshops for the museum's paintings and sculptures. Thanks to extensive windows and special lighting, the large rooms in the building designed by Theodor Fischer offer a daylight spectrum that is necessary for both damage analysis and retouching. The dark-haired woman is currently examining, with a critical eye, square centimetre after square centimetre of a woman's portrait. Unger transcribes any damage and any sign of ageing she notices during this analysis to an A4-sized copy of the painting. Such condition reports fill ring binders by the dozen, but there's digital damage mapping, too. "We follow a meticulous system of international standards," Unger explains, pulling a folder from the shelf. "Every intervention must be carefully deliberated. It must be possible to later undo everything we might add in order to restore the work to its original condition," she says, explaining the "reversibility" of her work, which is essential for preserving the value of paintings and sculptures.
The Wiesbaden collections encompasses works from the Middle Ages to contemporary art, a range that provides plenty of variety not just for museum visitors but also the restorers. The collections date back to bourgeois philanthropy in the early 19th century. In addition, Johann Wolfgang von Goethe, who is immortalised in stone on the stairs of the museum building, which is around 100 years old, inspired the acquisition of works of art, antiquities and natural objects during a stay in the spa town. Out of this arose three museums, which acquired impressive collections of, amongst other things, art. During the National Socialist era, major paintings by artists such as Jawlensky and Klee were banned, but other works, including important Baroque and Renaissance paintings, were brought to the museum. After the Second World War, the collections were reestablished and assigned to the State of Hessen. Since 1973, they have been housed in the Museum Wiesbaden, which was completely renovated between 1995 and 2013.
Next article in the series:
Sometimes we perform first aid - restoration workshop, Museum Wiesbaden (Part 2)
---
---
Gallery
---
Published on 13.03.2017
By clicking on this link you leave the Kultur in Hessen website and will be redirected to the website of Twitter. Please note that personal data will be transmitted in the process.

Further information can be found in our privacy policy.
By clicking on this link you leave the Kultur in Hessen website and will be redirected to the website of Facebook. Please note that personal data will be transmitted in the process.

Further information can be found in our privacy policy.