Show overview
---
Garden history of superlatives - Bergpark Wilhelmshöhe (Part 3)
A world class garden comprises many individual masterpieces, and it is no different at Bergpark Wilhelmshöhe . A particularly exotic stroke of genius was the construction of the village of Mulang - a homage to China in the heart of Hessen. In 1782, Landgrave Friedrich II from Hessen-Kassel (r. 1760-1785) killed two trend birds with one stone. At the time, it was fashionable for landowners to adorn their landscaped gardens with decorative villages that not only created a pleasing panorama but also had tangible agricultural purposes. At the same time, landgraves also indulged in the passion of the time for so-called chinoiseries. The village of Mou-Lang, later Mulang, fulfilled both functions.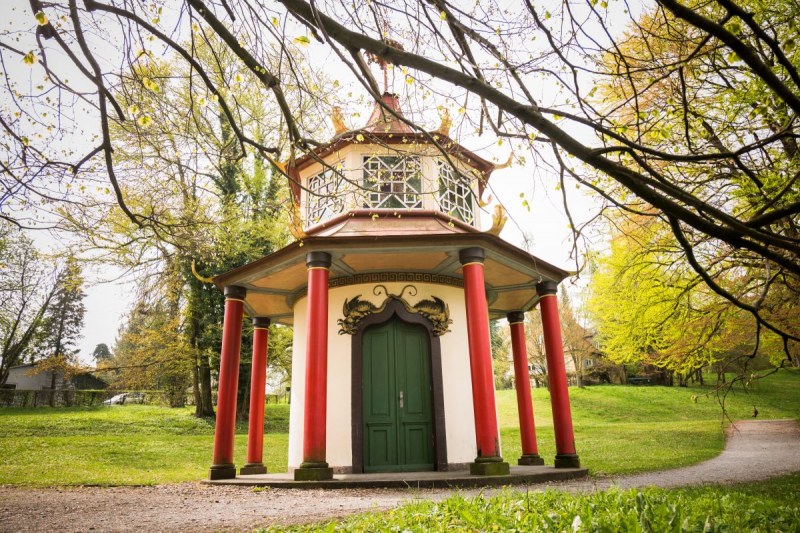 Since the architects and garden planners of the time were unfamiliar with real Chinese architecture, they used Asian painted porcelain for inspiration - and used a generous helping of imagination, too. This resulted in the forms that were soon considered typically Asian in Europe, for example façade decorations such as bells on the roof edges, that did not exist in original Chinese building culture. Before long, no garden in Europe could do without a Chinese building. Tea pavilions with pagoda roofs were particularly popular, and widespread. Geographical correctness was not taken very seriously, but dairy farming was: the cattle in the Chinese village supplied the nearby palace kitchen.
The idea for this colorful Asian backdrop can probably be credited to court gardener Daniel August Schwarzkopf. Having been educated in Chelsea, he knew the "Anglo-Chinese style" very well. Today, the Asian influences are only recognizable on the pagoda: the shape of the roof, the dragon above the entrance door, and the paintings inside. The brightly-painted Chinese sculptures are unfortunately badly damaged, though still in their original places. If you want to see what the village looked like in around 1785, you can marvel at an earthenware plate in the Hessen State Museum in Darmstadt, which depicts the entire village.
Previous article in the series:
Garden history of superlatives - Bergpark Wilhelmshöhe (Part 2)
---
---
Gallery
---
Published on 28.06.2019
By clicking on this link you leave the Kultur in Hessen website and will be redirected to the website of Twitter. Please note that personal data will be transmitted in the process.

Further information can be found in our privacy policy.
By clicking on this link you leave the Kultur in Hessen website and will be redirected to the website of Facebook. Please note that personal data will be transmitted in the process.

Further information can be found in our privacy policy.