Show overview
---
For Eternity - Einhard's Basilica, Michelstadt-Steinbach (Part 1)
Rico barks. The Jack Russell Terrier doesn't want Sigrid Floch to pick him up, but he has no choice. After Floch has opened the big gate, he needs to be in her arms. But like this, Rico can see everything. He stands with his mistress at the entrance to Einhard's Basilica in Michelstadt-Steinbach in Hessen and inspects the visitors. "Everyone has to get past him," she says, stroking the little dog. Sigrid Floch and Rico are at home here. Floch manages the church that Einhard had built in the 9th century and Rico provides support. Einhard wanted to be buried here, next to the two saints, Peter and Marcellinus, who should have also found their final resting place here. If everything had gone according to plan. Today, one stands in the crypt of the Romanesque-style church and there is no trace of Einhard's grave. Einhard's dreams never came true.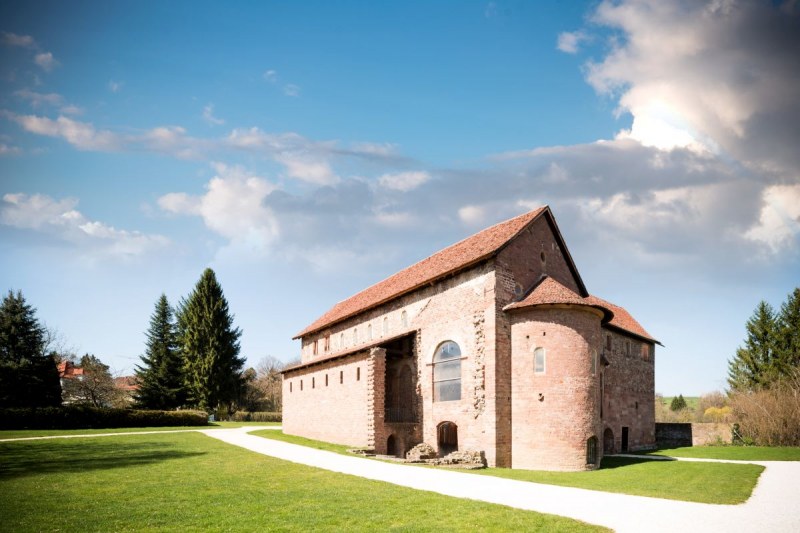 But who was the builder? "Einhard," explains Floch, "started out as an administrative clerk in Franconia." He rose quickly: first he advised Charlemagne, then his son, Ludwig the Pious. The latter gave him the area around what is today called Michelstadt as a thank you for his services. The area was obviously a gift that Einhard appreciated, because he wanted to stay here. He is said to have spent ten years building the church. When it was finished, he sent a confidante to Rome to fetch relics to complete the construction. Ratleik, the confidante, returned in 827 with the bones of Peter and Marcellinus; the two martyrs were to be reburied in Michelstadt-Steinbach and would add splendour to Einhard's church. "Can you imagine that?" asks Floch, looking amazed by the story herself.
The basilica is her kingdom today. Sigrid Floch does "almost everything" here, she says: if the roof or the trampled clay floor needs fixing, she makes sure it gets done. She shows visitors around and manages the property. In the nine years that she's been working here, she's become an expert, but she shares her vast knowledge with visitors without being too academic. Floch is a trained saleswoman, and she can sell. When she talks about Einhard and his basilica, words such "treasure", "preciousness" and "absolutely worth protecting" are used, but these are not just the words of an employee who does her job here. They are words of a loving friend who has lived next to the church long before starting as manager on behalf of the Administration of the Hessian Palaces and Gardens. Einhard's Basilica is Sigrid Floch's basilica.
Next article in the series:
For eternity - Einhard's Basilica, Michelstadt-Steinbach (part 2)
---
---
Gallery
---
Published on 29.03.2019
By clicking on this link you leave the Kultur in Hessen website and will be redirected to the website of Twitter. Please note that personal data will be transmitted in the process.

Further information can be found in our privacy policy.
By clicking on this link you leave the Kultur in Hessen website and will be redirected to the website of Facebook. Please note that personal data will be transmitted in the process.

Further information can be found in our privacy policy.