Einhard's Basilica, Michelstadt-Steinbach
Monasterial history from the time of Charlemagne
There are few buildings in Germany that can boast 1,200-year-old walls that have withstood wars and other catastrophes, but in addition to the King's Hall in Lorsch, Hessen has another rare gem of early medieval architecture, in the district of Michelstadt-Steinbach.
It was Einhard, the biographer of Emperor Charlemagne, who had a basilica built between the years 815 and 827. In keeping with the style of the time, the building is block-like and simple, and the walls were constructed without pedestals or niches. In antiquity, people worshiped the gods in temples and at shrines and a basilica served as a place of assembly. The simple shape of the basilica was used by Christians for church buildings. Rome was a role model in many respects, and it was from there that Einhard had the remains of St Marcellinus and St Peter transported. The basilica's accompanying exhibition provides fascinating background information to this story and much else besides.
This place is maintained by the State Palaces and Gardens of Hesse.
---
---
---
Stories
Report
Saints
For Eternity - Einhard's Basilica, Michelstadt-Steinbach (Part 1)
Read story
Report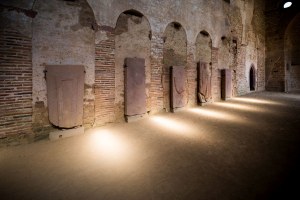 A blessing and a curse
For eternity - Einhard's Basilica, Michelstadt-Steinbach (part 2)
Read story
Report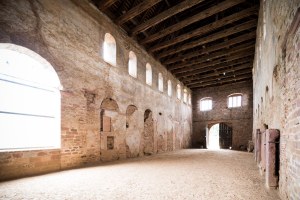 Order
For eternity - Einhard's Basilica, Michelstadt-Steinbach (Part 3)
Read story
By clicking on this link you leave the Kultur in Hessen website and will be redirected to the website of Twitter. Please note that personal data will be transmitted in the process.

Further information can be found in our privacy policy.
By clicking on this link you leave the Kultur in Hessen website and will be redirected to the website of Facebook. Please note that personal data will be transmitted in the process.

Further information can be found in our privacy policy.