Show overview
---
A journey through twelve centuries - Lorsch Abbey (Part 1)
If you were looking to describe the green spaces of Lorsch Abbey in one word, "magnificent" would come pretty close to the truth. They are magnificent in every sense, because the new site design, which was completed in 2015, received two of the highest accolades that same year: the European Garden Award and the German Landscape Architecture Award. The European Garden Award is considered a knighthood, and since 2010, has been awarded annually amongst a network of 14 countries, recognising outstanding and exceptional design in historic or contemporary grounds.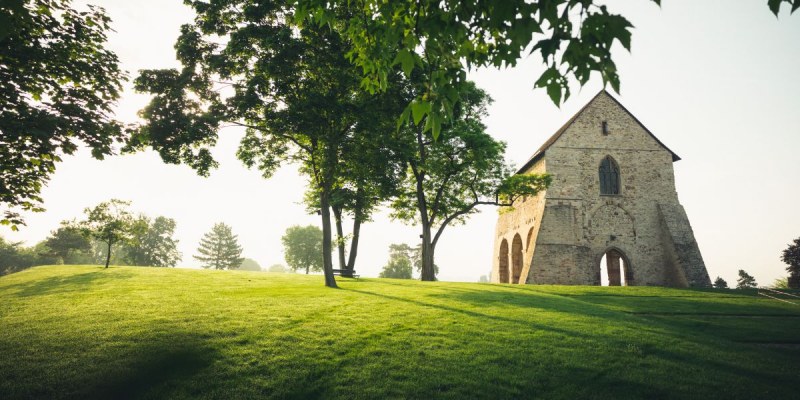 What is special about Lorsch's design is not spectacular herbaceous borders or innovative modernist garden design, but a highly intelligent, subtle concept that recreates its architectural past with flourishing greenery. If you wanted to describe it simplistically, you could call it a lawn landscape, but it is so much more than that. It's architecture created with landscape; instead of landscaping with shrubs, hedges and trees, as was so often successfully done in historical grounds, the grounds in Lorsch were sculpted. The designers have succeeded in doing something that sounds impossible: building spaces without building walls.
Elevations with clear contours trace the lines where there were once ancient walls. There is smoothed soil where uncultivated wild greenery previously took over. In this way, traces of history are not only visible, but visitors can follow their imprints on the ground with their own feet. It's an ingeniously simple concept that was created and implemented by the Administration of the State Palaces and Gardens in cooperation with the City of Lorsch and Berlin landscape architects, Topotek1. It's thus possible to experience Carolingian architecture again today, and not next door to the garden, but right the way through it.
Next article in the series:
A journey through twelve centuries - Lorsch Abbey (Part 2)
---
---
Gallery
---
Published on 15.08.2017
By clicking on this link you leave the Kultur in Hessen website and will be redirected to the website of Twitter. Please note that personal data will be transmitted in the process.

Further information can be found in our privacy policy.
By clicking on this link you leave the Kultur in Hessen website and will be redirected to the website of Facebook. Please note that personal data will be transmitted in the process.

Further information can be found in our privacy policy.