Show overview
---
A journey through twelve centuries - Lorsch Abbey (Part 2)
Lorsch Abbey, whose beginnings date back to the 8th century, today comprises various parts. Among them is the so-called "Carolingian Open-Air Laboratory Lauresham". This was the original name of the place, but its meaning is, to this day, yet to be deciphered. The replica central courtyard reveals how village life and work in the Middle Ages were intertwined. Regular guided tours take place here throughout the summer.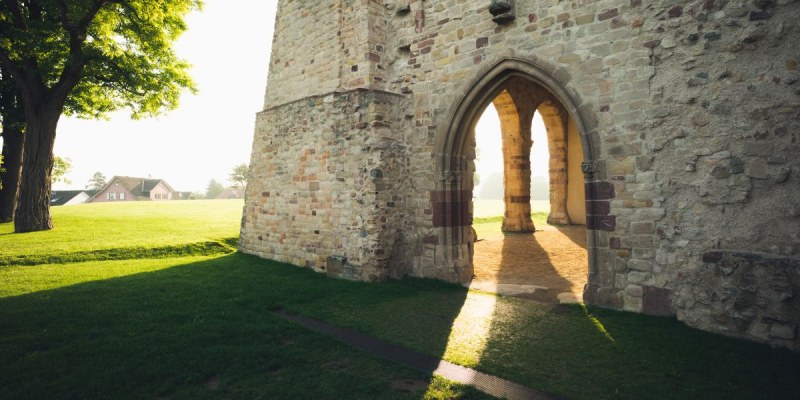 Like so many historical places, Lorsch is not without its folklore. According to the legend of the Nibelungen, Ute is said to have founded the monastery after Dankrat's death. Unfortunately, there are only a few real - or more precisely, stone - witnesses left from that period: almost none of the buildings survived the assaults of history. There are a few exceptions. One part of the so-called Nazaris Basilica looms up into the sky over the closely-cropped lawn. There's also a section of the abbey wall still running through the grounds, making the course of the former outer wall identifiable. The Gate Hall, also known as the King's Hall, has a special significance. To the modern eye, its colourful sandstone façade looks almost like an elaborate setting for a film, but the importance of this architectural gem is undisputed - even if researchers are entirely unable to agree on its use and purpose.
On the contrary, it is absolutely certain that the monastery complex was built in 764, following the foundation of Altenmünster Abbey, on a neighbouring shifting sand dune. The abbey church was consecrated ten years later, with Charlemagne taking part in the holy ceremony with his family and court. Whether or not the Nibelungen's Ute was in fact the founder and walked over this same ground or not is another matter. In any case, thanks to the work of the Administration of State Palaces and Gardens of Hessen, visitors today are able to follow both historical and fabled footprints between these sacred walls.
Previous article in the series:
A journey through twelve centuries - Lorsch Abbey (Part 1)
Next article in the series:
A journey through twelve centuries - Lorsch Abbey (Part 3)
---
---
Gallery
---
Published on 22.02.2018
By clicking on this link you leave the Kultur in Hessen website and will be redirected to the website of Twitter. Please note that personal data will be transmitted in the process.

Further information can be found in our privacy policy.
By clicking on this link you leave the Kultur in Hessen website and will be redirected to the website of Facebook. Please note that personal data will be transmitted in the process.

Further information can be found in our privacy policy.