Show overview
---
Impressive Jawlensky Collection - Museum Wiesbaden (Part 3)
Jawlensky was buried at the Russian Orthodox cemetery in Wiesbaden. The residents of the city identify with Russian-born artist, and named a school and a street after him. It's a beautiful example of how migration can enrich the culture of a city. On this point, Zieglgänsberger and Dr Jörg Daur, Curator of Modern and Contemporary Art at the Museum Wiesbaden, are in agreement. Jawlensky is also the godfather of the most important award that Wiesbaden bestows on artists: the Alexej von Jawlensky-Prize, for which Daur is responsible.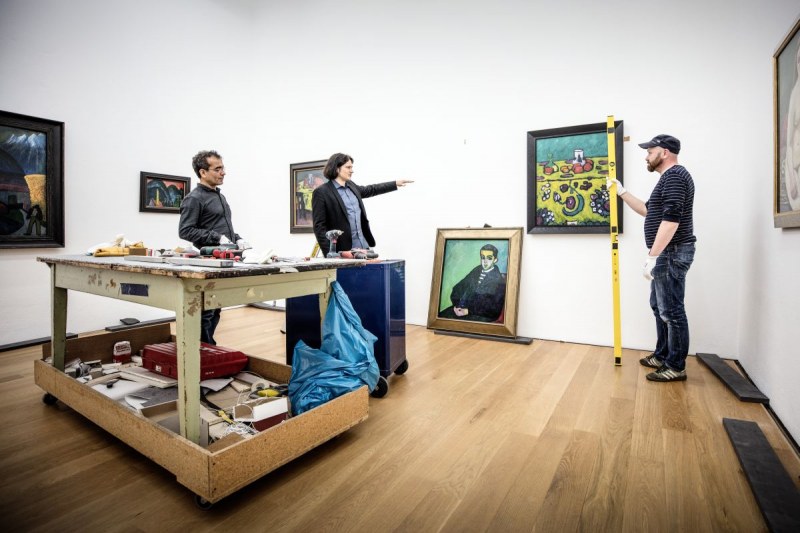 Thus far, the award has primarily been given to contemporary American artists who are already considered classics, as a tribute to their works as a whole. Agnes Martin (1991), Robert Mangold (1996) and Brice Marden (2004) were already part of a special exhibition in 2008 that was dedicated to the respective prize winners. (Fig. "Brice Marden, Untitled (Window Study#2), 1985. Mondstudio Collection at the Museum Wiesbaden"). In 2017, the award was given to Richard Serra, a contemporary sculptor of great significance. Daur, who organised the Serra exhibition in Wiesbaden, is certain that "without the award, we wouldn't get such high-calibre artists here at all."
The strong connection to America has been inherent in the Wiesbaden collection for generations. "The prize constructively combines Jawlensky's focus with contemporary art," explains Daur whilst hanging paintings. "It strengthens the heritage of our collection." Jawlensky is a unique selling point for the Hessian museum. Of course the curators would like private collectors to offer works by Jawlensky to the museum first. Zieglgänsberger explains that "then we would have the option of acquiring them for the collection and making them accessible to the public." The works of the prize-winners Robert Mangold (Green Black Zone Painting) and Ellsworth Kelly (White Relief Over Black) do not feel out of place in the Wiesbaden Museum either, and are displayed well in the historic rooms. American artists themselves appreciate the Alexej von Jawlensky-Prize, even if they are for the most part not dependent on the prize money and in some cases, even donate it. "The prize winners do feel honoured," Daur says, "because Jawlensky is a highly respected artist in the USA."
Previous article in the series:
Impressive Jawlensky Collection - Museum Wiesbaden (Part 2)
---
---
Gallery
---
Published on 07.06.2019
By clicking on this link you leave the Kultur in Hessen website and will be redirected to the website of Twitter. Please note that personal data will be transmitted in the process.

Further information can be found in our privacy policy.
By clicking on this link you leave the Kultur in Hessen website and will be redirected to the website of Facebook. Please note that personal data will be transmitted in the process.

Further information can be found in our privacy policy.