Show overview
---
A garden based on a historical model - Seligenstadt Abbey (Part 3)
The apothecary garden, which faces the abbey at the monastery garden, shows the importance of medicine in Benedictine monasteries. It is framed by germanders, which serve as pastures for the three bee colonies that live here. Uschi Lüft regularly invites visitors young and old to enjoy the herbs with their senses: sight, touch and taste. "But the same applies here as in the wild - the rule is: only touch or eat what I recognise beyond all doubt," explains Lüft emphatically. Carefully written signs in the beds tell visitors what is being grown. Those who join Uschi Lüft in the garden can also taste some of the recipes immortalised in the illustrated book, "Man rühre drei Ave Maria lang" ("Stir Three Hail Marys Long") written in connection with the history of the monastery, such as the "comfort cookies with sage".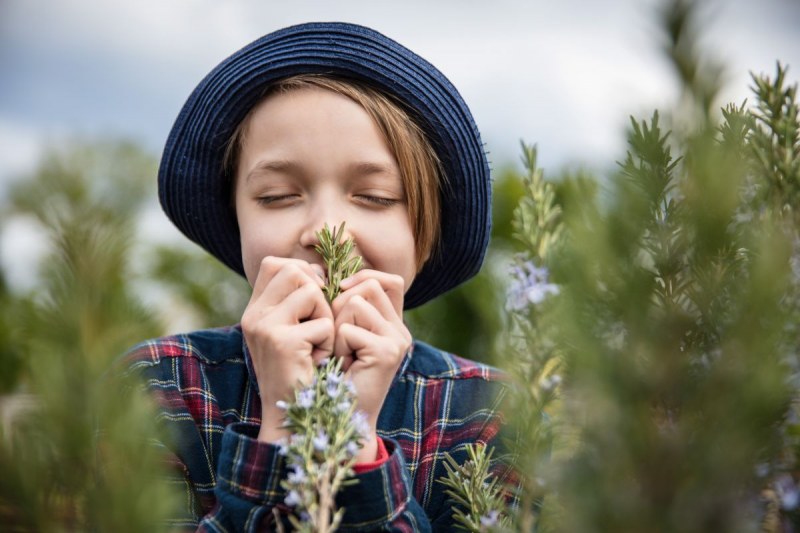 Like marigolds and mint, sage is a harmless herb with a straightforward effect: it refines dishes and simultaneously aids digestion. By way of example, the ingredients of the abbey bread that's baked here once a week comprises a mixture of aniseed, fennel, caraway, coriander and cardamom, a recipe that has been handed down via the apothecary. Other herbs, such as deadly nightshade and hemlock, have rather more powerful effects. "With these, it all depends on the correct preparation and dosage," says Lüft. "That is a matter for the experts."
To preserve herbs, they were also immersed in wine, a fruitful combination that gave rise to Muskateller and Gewürztraminer. By distilling wine and adding herbs, monks created brandies that were for health purposes rather than pleasure. These were among the most important sources of income for the monastery apothecary.
Particularly in summer, the herbs and flowers at Seligenstadt Abbey are not only a feast for the eyes, but also the source of glorious fragrances. Rose bushes adorn the wayside crosses, and fruit trees between the borders are pruned twice a year so that they remain small and don't obstruct the views of the garden. There is always a lavender shrub close to the small trees. "It not only looks beautiful, but it's extremely useful," explains Uschi Lüft. "The herbs keep the pests away." There it is once again, the principle of combining the useful with the beautiful. When harvested, small bunches of lavender serve all sorts of purposes in the home, such being hung, dried, in wardrobes, to provide a fragrant scent and keep the moths at bay.
Previous article in the series:
A garden based on a historical model - Seligenstadt Monastery (Part 2)
---
---
Gallery
---
Published on 08.03.2019
By clicking on this link you leave the Kultur in Hessen website and will be redirected to the website of Twitter. Please note that personal data will be transmitted in the process.

Further information can be found in our privacy policy.
By clicking on this link you leave the Kultur in Hessen website and will be redirected to the website of Facebook. Please note that personal data will be transmitted in the process.

Further information can be found in our privacy policy.