Show overview
---
Baroque garden splendour and palace concerts - Weilburg Palace Gardens (Part 3)
Weilburg is often described as the pearl on the Lahn, tucked picturesquely between the Taunus and the Westerwald. Today, its palace is considered to be one of the most important baroque complexes in Hessen. This is not least because of the enormous investments made in the 18th century by Count Johann Ernst of Nassau-Weilburg, who had a significant influence on the redesign of the palace gardens. He was inspired by the French king, Louis XIV, also known as the Sun King, with whom he sojourned at court in 1681/1682. Evidence has been found in old documents that the count imported lemon trees from Sicily - an unbelievable undertaking, since the trees had to be transported all the way from the south in ox carts. "That's what made these plants so unique at that time," says Katharina Brunsing. "In aristocratic circles, people wanted to show off, and a well-kept garden featuring rare plants was of course a part of that."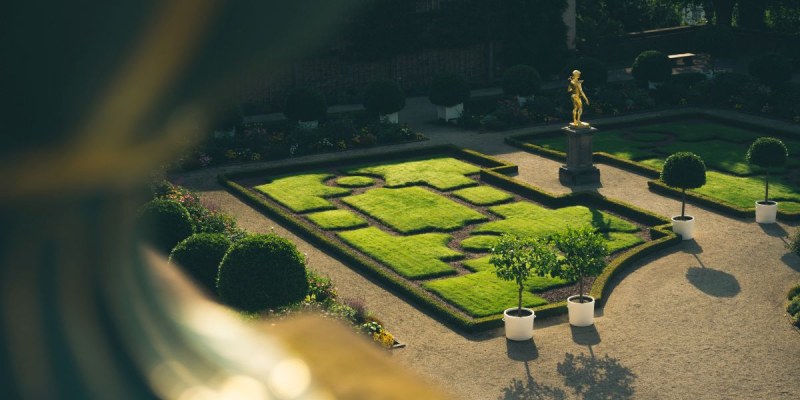 During that time, the trees spent their winters in the palace's lower orangery, which was modelled on that of the Palace of Versailles. Today, in addition to serving its original function as winter storage for citrus trees, it is used in summer primarily as a wonderful venue for concerts. Since "Hessentag" took place in Weilburg in 2005, Italian lemons have once again adorned the garden in front of the orangery, helping it to achieve its former glory once again.
A special attraction is also to be found in the upper orangery, which back then was used first and foremost as a walkway to the palace church, and as a banqueting hall. A total of 1548 replicas of the famous Dutch Delft tiles can be seen on the walls there - the real tiles were too expensive for Johann Ludwig, the builder. However, these imitations, painted by hand on waxed cotton by Georg Friedrich Christian Seekatz, are enchanting, and provide the upper orangery with an impressive visual setting as a venue for various events.
Situated impressively atop a mountain spur high above the Lahn, Weilburg Palace is a magnet for many visitors today and especially in the summer months, through the Weilburg Palace Concerts, receives glittering reviews.
Previous article in the series:
Baroque garden splendour and palace concerts - Weilburg Palace Gardens (Part 2)
---
---
Gallery
---
Published on 12.07.2018
By clicking on this link you leave the Kultur in Hessen website and will be redirected to the website of Twitter. Please note that personal data will be transmitted in the process.

Further information can be found in our privacy policy.
By clicking on this link you leave the Kultur in Hessen website and will be redirected to the website of Facebook. Please note that personal data will be transmitted in the process.

Further information can be found in our privacy policy.