Show overview
---
The rise and fall of a centre of power - Lorsch Abbey (Part 3)
Lorsch Abbey experienced its last heyday in around 1200, but was then caught in major political crossfire and suddenly became worthless in a dispute between the Elector of Heidelberg and the Archbishop of Mainz. The decline of the abbey was as rapid as its rise, and it had been closed down for decades by the time the complex was ravaged by Spanish troops 400 years later.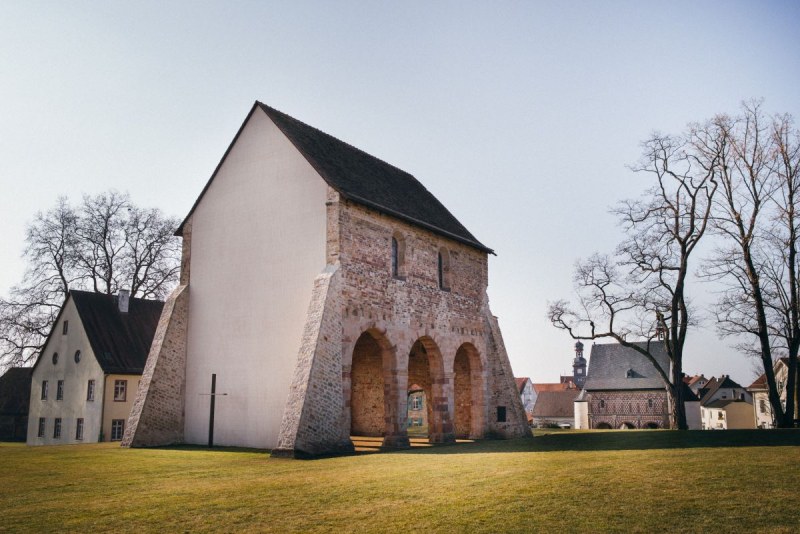 A few remains, such as the gate hall from around 900 and the western fragment of the nave of the 12th century Romanesque church, are all that remain now of this formerly flourishing scene of monastic life. Today, the gate hall is the only completely preserved building in Europe from the late Carolingian period.
With an application to be recognised as a UNESCO World Heritage Site in the 1990s, so the desire for something to see there grew - or at least a digital reconstruction of the abbey according to an historical model. This turned out to be unattainable, however, since there is only one historical illustration of the abbey, by Matthäus Merians the Elder, from the middle of the 16th century. It shows only the later condition of the abbey; there are no existing illustrations from Charlemagne's time or the abbey's heyday around 1200. The Administration of State Palaces and Gardens has therefore concerned itself for many years with, among other things, the question of how to do justice to their own expectations of a visual representation of the abbey. Dr Schefers explains:
"We thought about this for many years, even hypothetically, but there was always the question of which version of the abbey would be depicted, since it changed over the years with each construction period. The fact that we can't conjure up a suitable image of Lorsch Abbey at the push of a button is frustrating, admittedly, but at the same time it also provides us with the opportunity to drive along the discussion of content. What other sites invest in monument conservation, we can put into expanding research and communicating our knowledge. We have forced ourselves to accept that there is no suitable image of the abbey. We compare today's site to the display of a jeweller whose jewels have gone missing. What remains are the smooth imprints of the jewellery, which in our case shape the outlines of the abbey at that time."
Perhaps this brings the story full circle, and more than does justice to the idea of the abbey as a haven of tranquility and a place of art and knowledge.
Previous article in the series:
The rise and fall of a centre of power - Lorsch Abbey (Part 2)
---
---
Gallery
---
Published on 15.02.2019
By clicking on this link you leave the Kultur in Hessen website and will be redirected to the website of Twitter. Please note that personal data will be transmitted in the process.

Further information can be found in our privacy policy.
By clicking on this link you leave the Kultur in Hessen website and will be redirected to the website of Facebook. Please note that personal data will be transmitted in the process.

Further information can be found in our privacy policy.