Show overview
---
A longing for antiquity, hunting history and ivory carving - Erbach Palace (Part 1)
Green light falls idly through the old windows, lending the scene a surreal atmosphere. It's like entering a time capsule.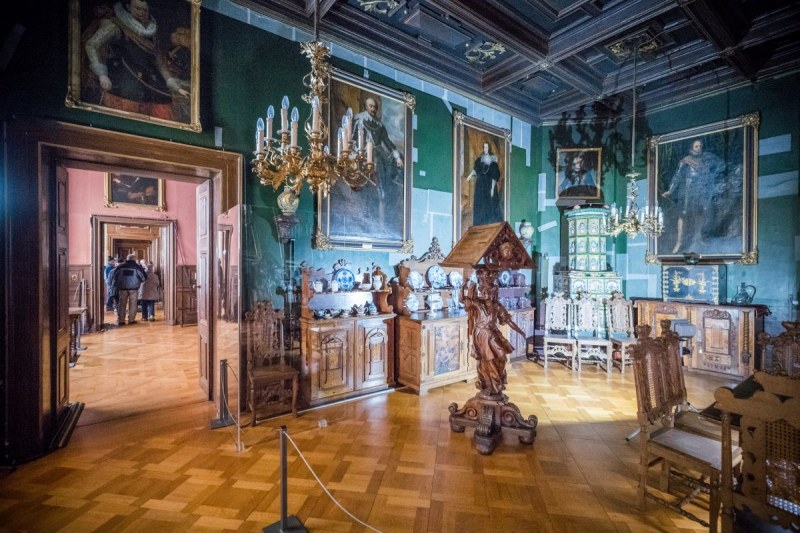 Knights' armour on horses that appear to gallop with lowered halberds as if at a tournament. Swords, helmets, shields, and guns - many guns - all elaborately decorated. Muzzle-loading guns, breech-loading guns, the sheaths decorated with the finest ivory inlays or silver patterns. There's a huge number of them, lined up neatly, polished and sorted by genre almost like an encyclopaedia of weaponry. The armour once belonged to famous men such as Götz von Berlichingen; the hall is meant to look like a Gothic walled room, but in reality, the ceiling is entirely made of wood.
At Erbach Palace, it looks as if time has truly stood still. The entrance is not the only part of the palace that gives one the feeling that Count Franz I and his descendants have only just moved out, as if the palace vacated only a few days ago and everything was simply left behind. The knights' hall, with its armour and weapons collection, the audience chamber with its collection of antiques, the bedroom where the bed is missing - everything looks like it is standing in its rightful place. And at first, everything appears to have been thrown together - but it has not. For one is actually standing in front of the collection of a researcher who wanted to pass on the knowledge and treasures collected here to his subjects. Dr Anja Kalinowski, who calls it a "privilege" to be allowed to do research here, says: "Franz has given us so much to start us on our way. We just have to understand it."
Understanding and passing on is also what they want to do in Erbach Palace today, in keeping with the count's tradition. Visitors can marvel at the collection of antique busts labelled with important names such as Herodotus, Nero and Hadrian, in rooms that were also open to the public in the past.
Though he was far from the last count to live here, it is Franz who dominates every room. Dr Kalinowski talks about him as if she knew him personally, the man whose history she is allowed to research here. Here, in the time capsule of Erbach Palace, where history is concentrated as if under a magnifying glass.
Next article in the series:
A longing for antiquity, hunting history and ivory carving - Erbach Palace (Part 2)
---
---
Gallery
---
Published on 05.10.2018
By clicking on this link you leave the Kultur in Hessen website and will be redirected to the website of Twitter. Please note that personal data will be transmitted in the process.

Further information can be found in our privacy policy.
By clicking on this link you leave the Kultur in Hessen website and will be redirected to the website of Facebook. Please note that personal data will be transmitted in the process.

Further information can be found in our privacy policy.