Show overview
---
The World Heritage title as cultural-historical recognition - interview with Prof. Dr Küster (Part 1)
Art historian, literary scientist and philosopher Prof. Dr Bernd Küster has been Director of the Museum Landscape Hesse Kassel since 2009. Last year, he researched how the figure of Hercules was received in the visual arts, and collected a significant amount of material for the current exhibition taking place for the 300th birthday of Hercules in Kassel. His fascinating remarks provide insight into the cultural-historical significance of North Hesse's landmark, which is more than just the display of a mythological figure, and without which Wilhelmshöhe Mountain Park would have had a much smaller chance of being recognised as a UNESCO World Heritage Site.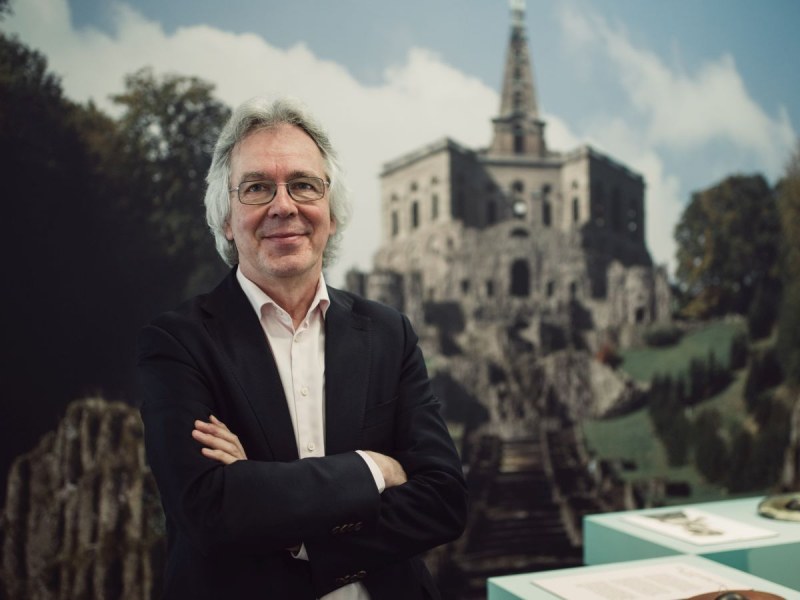 Prof. Dr Küster, you began as head of the Museumslandschaft Hessen Kassel at the very time at which the proposal was being made to designate Wilhelmshöhe Bergpark as a UNESCO World Heritage Site. There are definitely easier tasks...
At the time, we were right in the middle of the exciting process of precisely tailoring the World Heritage application. The focus on the sophisticated technology of the water feature, which still functions exactly as it did 300 years ago, ultimately led to our success and the inclusion of the Bergpark on the list of World Heritage sites that are worthy of protection. Here in Kassel, we're in the fortunate position of being able to look after the last remaining complex of this kind and, thanks to the World Heritage title, we now also have the assurance that our grounds will remain under specific protection in the future. The recognition of Kassel's Bergpark as a World Heritage Site greatly moved the people of Kassel, and the media presence it generated has led to the site and its value returning to people's minds. Through its title as a World Heritage Site, Kassel has now officially received worldwide cultural-historical recognition, and we are very pleased about that.
What makes Kassel so special in terms of cultural history?
With Kassel, we are talking about a particularly authentic framework of cultural history and art. This harmony is truly unique, and I would assert that such an institution as documenta could only find its place here because of our location's well-cultivated cultural soil. You see, I always try to convey to my students that cultural-historical knowledge just for the sake of knowledge is not enough, but that one always has to look at culture in a wider context in order to understand how it emerges and develops. The shift in art and culture is what's actually exciting and at the same time, the only real constant. And that can be well illustrated and experienced here in the Museumslandschaft Hessen Kassel.
I'll give you an example: if you look at paintings over the centuries, it's easy to observe how they become increasingly spectacular, refined and technically sophisticated, until at some point you stand in front of a painting by Rembrandt and realise it's almost impossible to improve on it in terms of technical perfection. And yet it continues.
In his day, Jean-Auguste-Dominique Ingres (1780-1867) publicly declared in earnest that he couldn't imagine there'd be any more art after him. And indeed, at this stage, it is difficult to imagine at first. It is precisely at this point that art has to reinvent itself, to develop itself, and today, I would say to him, "My dear Ingres, after you, art really began". With the recognition of the regularities of art and culture, many things can be better understood, and I hope that this will also be clearly visible in our exhibition for the 300th birthday of Hercules here in Kassel.
(Prof. Dr Bernd Küster retired on 1 February 2018.)
Next article in the series:
Folgt in Kürze.
---
---
Gallery
---
Published on 01.05.2017
By clicking on this link you leave the Kultur in Hessen website and will be redirected to the website of Twitter. Please note that personal data will be transmitted in the process.

Further information can be found in our privacy policy.
By clicking on this link you leave the Kultur in Hessen website and will be redirected to the website of Facebook. Please note that personal data will be transmitted in the process.

Further information can be found in our privacy policy.