Show overview
---
Legacy of the Roman Empire - Roman Fort Saalburg - Archaeological Park (Part 3)
At special events such as the Roman Market or a themed day entitled, Culinaria - on Ancient Food Culture, visitors can experience what everyday life was like at Fort Saalburg beyond all the fighting - for example, how labour intensive it was to grind grain by hand. Roman soldiers mostly carried the basis for their provisions with them - on three-day marches, for example, grain, usually wheat, with which they could prepare porridge in front of their tent. At the fort, there were mound-shaped ovens they could use instead. Today, on special occasions, the "Romans on Duty" fire up replica ovens and bake bread in them using traditional methods. Visitors can sample and buy the warm, freshly-baked loaves.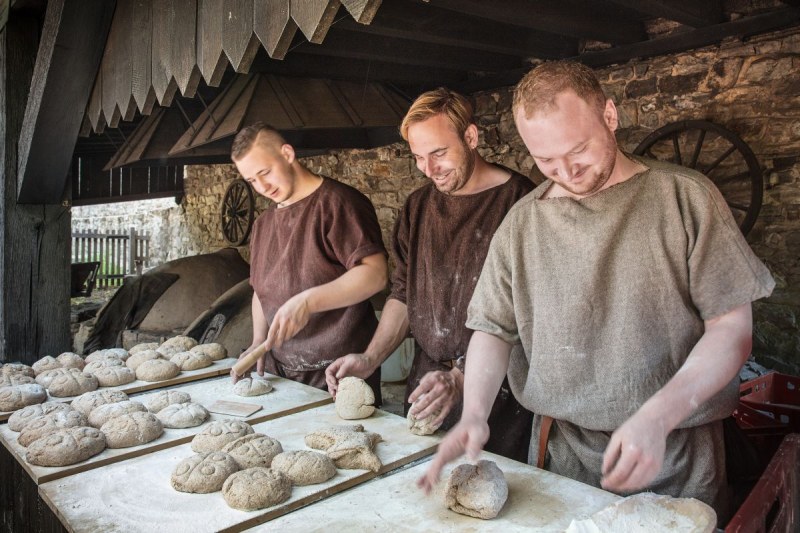 Residents of the Roman fort supplemented their cereal dishes, where available, with meat, vegetables or moretum, a spread made with cheese, olive oil and spices that was named after the mortar in which it's made. The recipe has been passed down in one of Virgil's poems. At Saalburg's themed days, authentically dressed "Romans on Duty" and members of the 4th Vindeliker Cohort Reenactment Group share such explanations, carry out demonstrations and offer samples of dishes. "We specialise in depicting Roman auxiliary soldiers on the basis of new archaeological findings," explains 1st chairperson Paul Lotz, who can be found at numerous museum festivals and Roman days along with other members of the association. Researching and reconstructing equipment used for making fires and preparing simple meals in front of the tent is an integral part of their hobby, which also requires manual skills.
For the nearly 50 members of the association, it's all about an authentic view of the auxiliaries and their everyday life. "In the forts, it was less about the heavily armed legionaries with plate armour and Pilum (javelins) that we recognise from documentaries and Hollywood films," Lotz explains. "In reality, it was mostly the auxiliaries that shaped life in the Roman provinces." The way in which they spent their lives as infantry, cavalry and specialised units as well as carrying out administrative duties, construction work and material procurement, can be learned and recreated at the Saalburg like nowhere else.
Next article in the series:
Folgt in Kürze.
---
---
Gallery
---
Published on 14.06.2019
By clicking on this link you leave the Kultur in Hessen website and will be redirected to the website of Twitter. Please note that personal data will be transmitted in the process.

Further information can be found in our privacy policy.
By clicking on this link you leave the Kultur in Hessen website and will be redirected to the website of Facebook. Please note that personal data will be transmitted in the process.

Further information can be found in our privacy policy.