Show overview
---
Legacy of the Roman Empire - Roman Fort Saalburg - Archaeological Park (Part 2)
"We want to make the everyday life of the people who lived here 2,000 years ago comprehensible and observable," Verbis-Glasbrenner explains. "This works best in an activity-based format." This is why at Saalburg, visitors are not only invited to dine out at a Roman taberna, but also join days and events that are themed, for example, around clothing and nutrition or medicine and hygiene. In addition, the museum educators organise around 2,500 guided tours per year, all tailored to different target groups and interests.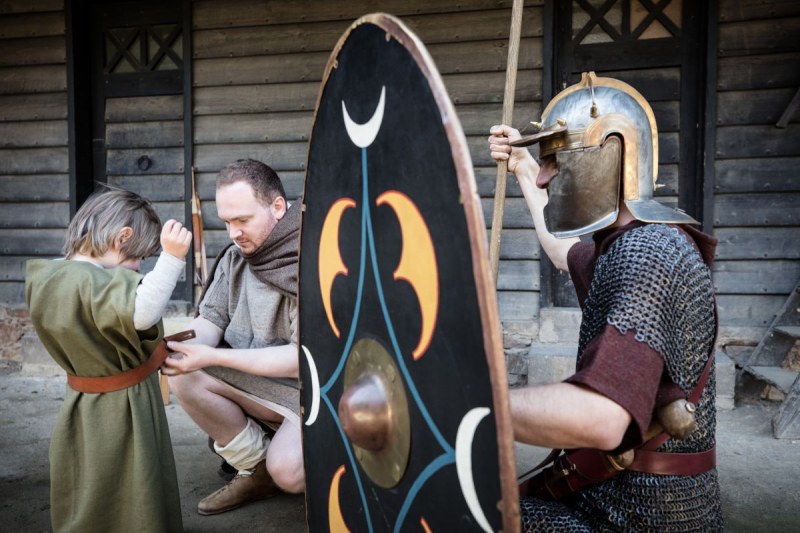 The activity programme is taken care of by "Romans on Duty" like Alexander Weisgerber. Registered participants can try their hand at archery, lance throwing and sword fighting - albeit with wooden swords. Everything is staged as authentically as possible, and almost all the props are handmade from wood, metal and clay based on old examples. "A lot of visitors don't expect chainmail to be quite so heavy," says the historian and archaeologist, wrapped in coarse cloth, as he puts a helmet on a visitor and belts up a boy's tunic. This way of staging historical events in the most authentic way possible is known as reenactment. "It's a great way to share historical knowledge," says Weisgerber, before going on to help with baking bread in the reconstructed ovens.
The layout of Fort Saalburg correlates to a Roman standard as it was up until late antiquity, which meant that soldiers could orient themselves immediately at each and any location. The squad barracks and garrison buildings (principa), a large market and assembly hall (basilica), the commander's residence (praetorium) and the granaries (horrea) are arranged in a rectangle, with the banners shrine (aedes) as the ritual centre. The buildings are surrounded by a reinforced 730-metre-long wall with battlements, which is constructed with quartzite stone. From here, the Roman world power defended its outer border against the Alemanni and Chatti tribes.
Previous article in the series:
Legacy of the Roman Empire - Saalburg Roman Fort - Archaeological Park (Part 1)
Next article in the series:
Folgt in Kürze.
---
---
Gallery
---
Published on 03.05.2019
By clicking on this link you leave the Kultur in Hessen website and will be redirected to the website of Twitter. Please note that personal data will be transmitted in the process.

Further information can be found in our privacy policy.
By clicking on this link you leave the Kultur in Hessen website and will be redirected to the website of Facebook. Please note that personal data will be transmitted in the process.

Further information can be found in our privacy policy.