Show overview
---
Walls as a field of expertise - Wilhelmsthal Palace, Museumslandschaft Hessen Kassel (Part 3)
In Kassel's city centre, there are thousands of wallpapers of the kind found at Wilhelmsthal Palace. The wallpaper storage facility there is a foray into the history of wall decoration. It is a special historical place hidden away in the centre of the city. Wallpaper treasures are stored here, some of which date back to the 16th century. The German Wallpaper Museum was founded in Kassel in 1923, and they have been collected there ever since. After some heavy losses during the Second World War, the collection grew steadily until it became one of the largest collections of its kind. It comprises around 23,000 wallpapers from various time periods. In a semi-dark room with neon lamps on the ceilings, the windows are covered with plastic sheeting against the dirt and, of course, against the sun - the bitterest enemy of the colours on the wall decorations. Here the wallpapers are hung on frames, which Kallaste pulls out one by one to show off. She does so very carefully - after all, she is working here with the most valuable exhibits the storage facility has to offer.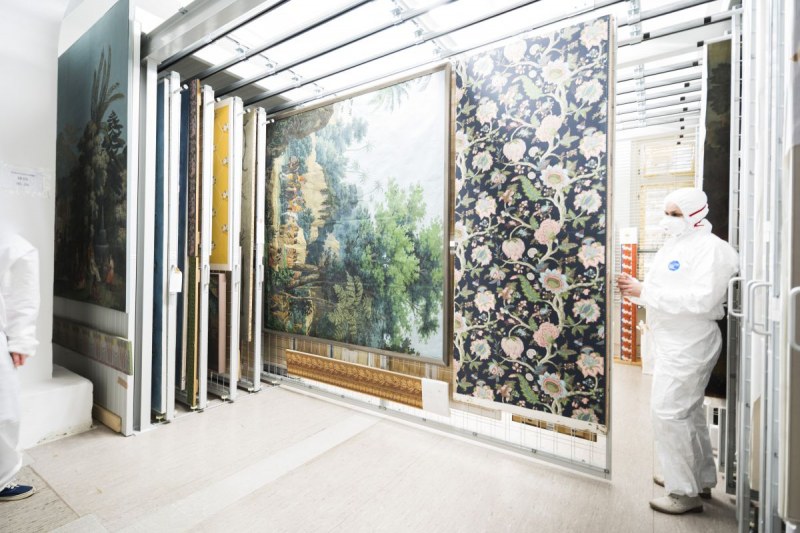 Besides the wallpapers with floral and plant patterns are a very special piece of wallpaper history: panorama wallpapers that show historical landscapes and scenes from mythology. More than 30 such valuable pieces are stored here. The panorama wallpapers will form "a special part of the exhibition", says Kadri Kallaste, as she pulls out one of its frames. What emerges is wallpaper decorated with a Greek-style temple. At first glance, it doesn't look like wallpaper, but perhaps more like a painting. A work of art. And that's what it is, when you consider that all these wallpapers were created by hand. But time has also taken its toll on them: in some places, the colour has faded or the paper is yellow or broken. This is a job for Kallaste, who is responsible for restoring the wallpapers for the new permanent exhibition. In her workshop in Kassel's city centre, she goes about this task with an eye for detail and sophisticated tools. By the time she's finished, the wallpapers should look like new.
Dr Astrid Wegener, the director of the Wallpaper Museum, is responsible for the concept of the exhibition and its academic supervision. But why? At first glance, wallpapers seem almost trivial. The wallpapers here in Kassel are so special, however, that one of them was made at the manufactory in Alsace for the White House in Washington, D.C. - "Views of North America". The New World, made in the Old World. When visitors to the Wallpaper Museum will also be able to admire this piece is not yet entirely clear. "We hope to be able to reopen on the museum's 100th anniversary," says Dr Astrid Wegener. The new museum building is currently in the pipeline.
Previous article in the series:
Walls as a field of expertise - Wilhelmsthal Palace, Museumslandschaft Hessen Kassel (Part 2)
---
---
Gallery
---
Published on 01.03.2019
By clicking on this link you leave the Kultur in Hessen website and will be redirected to the website of Twitter. Please note that personal data will be transmitted in the process.

Further information can be found in our privacy policy.
By clicking on this link you leave the Kultur in Hessen website and will be redirected to the website of Facebook. Please note that personal data will be transmitted in the process.

Further information can be found in our privacy policy.