Show overview
---
The World Heritage title as cultural and historical recognition - interview with Prof. Dr Küster (Part 2)
The exhibition, "Hercules 300. Rebirth of a Hero" will run until October 2017. What can visitors expect?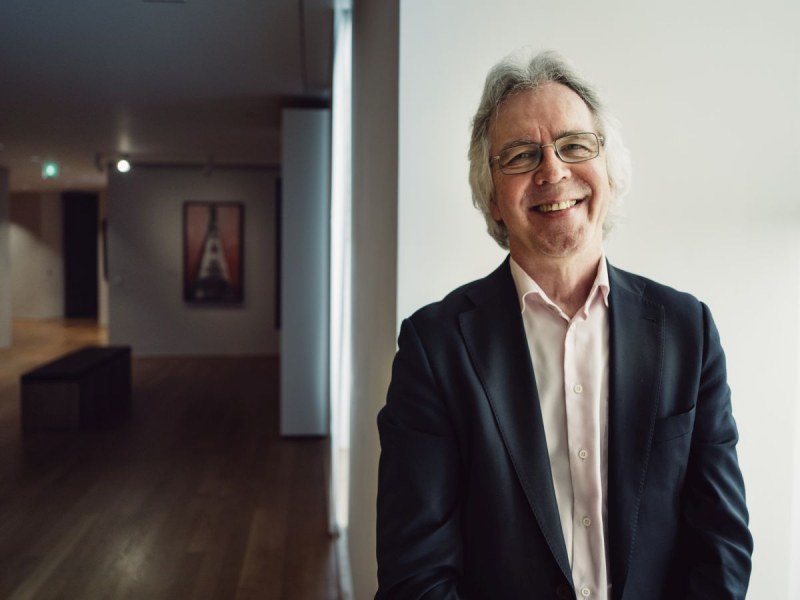 The exhibition comprises two parts. In the first part, we examine the historical events of how Hercules came to Kassel, and in the second, we show how the visual arts reacted to this and to the wide-reaching Hercules theme. To that end, I asked a wide range of contemporary artists to tackle the figure of Hercules. They're all artists I know and hold in high regard, and a wonderful exchange developed in this collaboration with them, which will at some point undoubtedly allow for further reflection.
Many things are projected onto Hercules as a figure, and I think we have been successful in documenting exactly this point in our exhibition. Hans Traxler presents him as a frail old man playing chess, Gerhard Glück as a babyish muscleman, and Otto Waalkes even as a waiter. The depiction of Hercules as a woman also pursues a very powerful idea, and this too can be admired in our exhibition. One mustn't forget that Hercules has always been subjected to attempts at demystification; even Rubens painted Hercules as a drunk anti-hero. The second part of our exhibition, incidentally, begins with this painting. Yes, I think for an artist, there is a great appeal in dethroning a demigod.
Fortunately, Landgrave Carl of Hesse-Kassel was at that time pursuing a different goal. How did the enormous Hercules figure find its way to the peak of the Mountain Park in Kassel?
Hercules is a role model with tremendous symbolic power and charisma, but he was not included in the original planning of the park in Kassel more than 300 years ago. Landgrave Carl saw the sculpture in Rome during a trip to Italy in the spring of 1700 and decided to use it for his mountain park. An interesting part of this story is that 13 years passed between Landgrave Carl seeing the Farnese Hercules during his journey through Italy and deciding to recreate the ancient sculpture and erect it in Kassel. During these 13 years, the idea became more and more concrete for him, and he began to understand the symbolic power of such a mythological figure for himself and, in the end, used it skilfully.
With the figure of Hercules, he placed a landmark in an exposed location that dominated a large, scenic area and not only enriched his structure, but also made it renowned worldwide and unique. It was a stroke of genius against all the skeptics and critics to give what is actually a purposeless water feature a face that could be recognised from afar, and to give the elevation of the water feature a spectacular effect. The real attraction of the installation, however, is the elaborate and ingenious idea of a magnificent staging of water as a natural force that can be unleashed at the push of a button. Such a sophisticated mastery of water as a kind of natural spectacle was unique and unparalleled in its time. Landgrave Carl of Hesse-Kassel won great recognition for it, and far beyond the borders of the state.
An interesting side story: during his time, Landgrave Carl had already commissioned a Hercules figure made of sandstone, which, however, as a roughly cut workpiece, got stuck with the transport wagon in boggy ground during its transportation from the nearby quarry and couldn't be moved. The workpiece, which was already recognisable as the figure of Hercules but wasn't yet refined, remained there until the beginning of the 20th century. In the end, local peasants broke it up and used its remains to build the foundations of their houses. The landgrave must have realised through this accident that he needed to take a different path to realising his idea, and so came about the more than eight-metre tall copper figure that is today the landmark of North Hesse.
(Prof. Dr Bernd Küster retired on 1 February 2018.)
Next article in the series:
Folgt in Kürze.
---
---
Gallery
---
Published on 12.02.2018
By clicking on this link you leave the Kultur in Hessen website and will be redirected to the website of Twitter. Please note that personal data will be transmitted in the process.

Further information can be found in our privacy policy.
By clicking on this link you leave the Kultur in Hessen website and will be redirected to the website of Facebook. Please note that personal data will be transmitted in the process.

Further information can be found in our privacy policy.