Show overview
---
Preserving the town's exceptional heritage - Seligenstadt Abbey (Part 3)
The men have a feeling for the baking time - just like in the old days. Before clocks set the time, the length of a prayer, for example, served as a unit of measurement. This is why there's an educational picture book about Seligenstadt Abbey called "Stir for three Hail Marys...". As she puts the book on a shelf in the abbey shop, Laura Woods explains that the quote comes from an old recipe: "The kitchen maids couldn't set an egg timer, but they could say their prayers". The smell of freshly-baked bread is ever present here, too. A window opens and Lüft passes a basket of fresh bread to the young woman from Seligenstadt, who regularly helps out in the shop.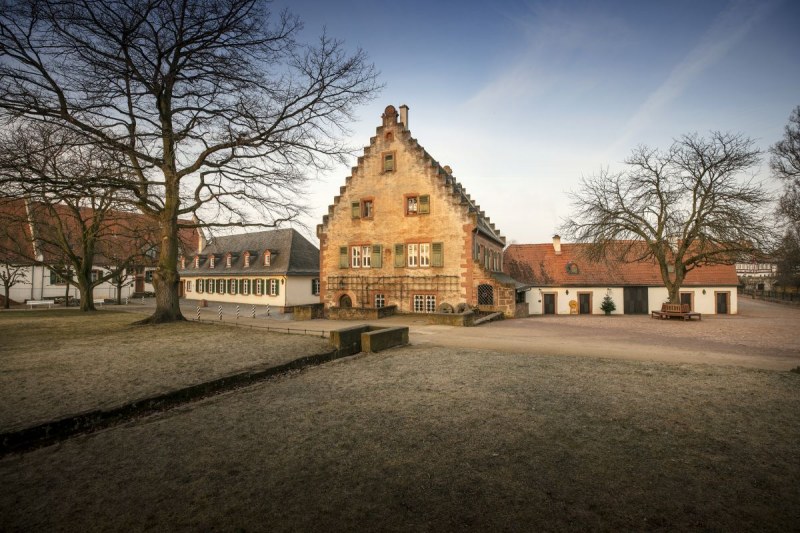 The bakers have done their job for the day and sales now continue in the shop. It's housed, like the bakery, in the former coach house, which dates back to 1699, and sells all kinds of products related to the former abbey. There are fruit brandies made from must from their own trees, and small souvenirs such as lanterns decorated with Seligenstadt's historic view. "The wines from the Abtsberg vineyard in Hörstein, a site that once belonged to the Benedictines, sell out quickly every year," says Florian Post, who also helps in the shop. In the spring and summer months, there are fresh herbs from the reblooming apothecary garden; in the past, the harvest was offered for sale directly from the wheelbarrow at the entrance to what was once the prelature's building.
Another speciality is the Old Seligenstadt Abbey herb liqueur, which has been made from 16 different herbs according to a secret recipe since 1747. The last employed abbey apothecary managed to save the old Benedictine recipe during the turmoil of the Napoleonic dissolution of the abbey in around 1802, and it's been kept in the apothecary's family ever since - for seven successive generations. Spiritual and intellectual nourishment can be bought at the monastery shop from 9:30am to 5:30pm every day except Mondays.
Previous article in the series:
Preserving the town's exceptional heritage - Seligenstadt Abbey (Part 2)
---
---
Gallery
---
Published on 19.04.2018
By clicking on this link you leave the Kultur in Hessen website and will be redirected to the website of Twitter. Please note that personal data will be transmitted in the process.

Further information can be found in our privacy policy.
By clicking on this link you leave the Kultur in Hessen website and will be redirected to the website of Facebook. Please note that personal data will be transmitted in the process.

Further information can be found in our privacy policy.