Show overview
---
Biography of a royal garden - Schlosspark, Bad Homburg (Part 3)
A diverse range of styles and a variety of garden areas; at the Schlosspark Bad Homburg, the very different types of cultivated nature are arranged next to each other like rooms. On leaving the Upper Garden area and direct vicinity of the palace and heading northwest from Goethe's Rest, you will reach the large pond. Originally rectangular in shape, it was only given its present form and setting in the second half of the 19th century, around the same time that the Dutch section and the rose terrace by the King's Wing came into being.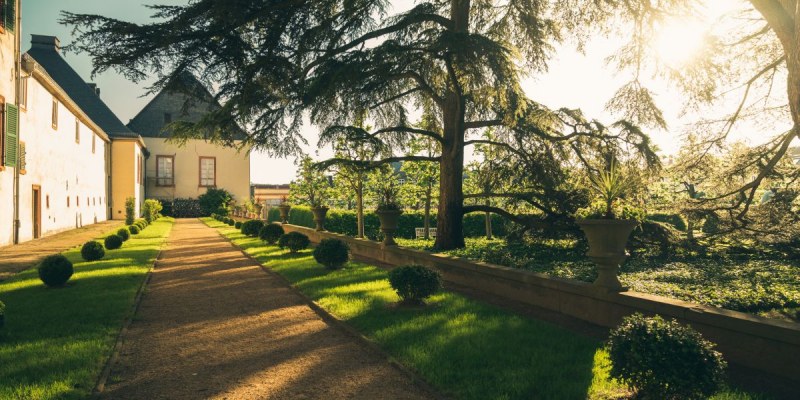 The path leads through the Fantasy, a pleasure grove that was once home to various huts, and even a Chinese teahouse. They were all replaced in the 1930s, however, by a wooden hut. The teahouse's original name, the Temple of Pomona (the Roman goddess of fruitful abundance), can be related to its proximity to the stately orchard, which is understood to be the oldest part of the entire grounds. In fact, medieval gardeners and chefs were able to meet their fruit and vegetable requirements for the castle residents here. There have been fruit trees lined up in rank and file directly opposite the chestnut grove since their extensive replanting in 2003. This is also something special, as it's the northernmost plantation of sweet chestnuts (not to be confused with horse chestnuts). Landgravine Elisabeth (1770-1840) ordered them to be planted in 1818, and two of her trees are still here today. Next, visitors again come across the Elisabethenschneise and the Tannenwaldallee on which today, in the first phase of the project, more than 30 Italian poplars are once more aloft. After this are the Forest Garden, the Deer Garten and the Princes' Gardens, of which only the Gustav's Garden remains today. It's going to be kept, or rather reconstructed as a classic English garden.
These measures are all part of the large-scale plans to restore the Landgraviate garden landscape as far as possible to its original state, and to acknowledge its enormous cultural significance in Germany's garden history. The historically-recreated replanting of the fountain with ornamental foliage plants in pots is currently (July 2017) underway. The teahouse is being refurbished in cooperation with the board of trustees, and the Upper Garden is being adapted to the Wilhelminian period - hand in hand with the reconstruction of the interior, because inside and outside will soon form a historical unit once again - another stop on the journey through time in this extraordinary garden landscape.
Previous article in the series:
Biography of a royal garden - Schlosspark, Bad Homburg (Part 2)
---
---
Gallery
---
Published on 12.04.2018
By clicking on this link you leave the Kultur in Hessen website and will be redirected to the website of Twitter. Please note that personal data will be transmitted in the process.

Further information can be found in our privacy policy.
By clicking on this link you leave the Kultur in Hessen website and will be redirected to the website of Facebook. Please note that personal data will be transmitted in the process.

Further information can be found in our privacy policy.