Show overview
---
Legacy of the Roman Empire - Saalburg Roman Fort - Archaeological Park (Part 1)
Anyone entering Saalburg from the south, through the Porta Praetoria, will pass the Emperor Antoninus with his arm raised in salute. For more than a century, the bronze Roman has graced the main entrance to Saalburg Castle, which is situated in the forest on the Taunus mountain ridge, north-west of Bad Homburg vor der Höhe. The Romans picked this location almost 2,000 years ago to build a fort for an infantry unit of around 500 men. The cohort's mission was to secure a section of the Upper Germanic-Rhaetian Limes. Today, the archaeological finds from the border wall are a UNESCO World Cultural Heritage site. The state of Hessen has developed the reconstructed fort, with its considerable internal buildings, comprehensive collection of original Roman finds and archaeological park, into a destination that allows visitors to familiarise themselves with Roman culture in all manner of different ways.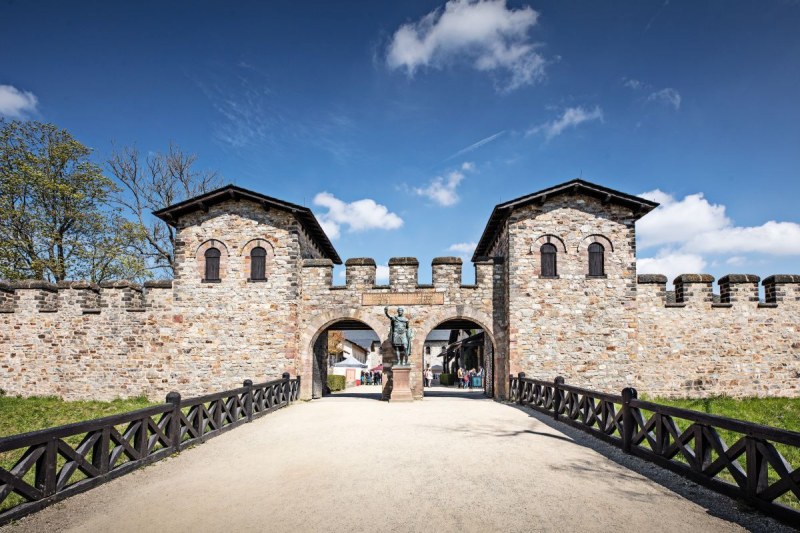 The former fort, however, almost fell into oblivion. The ruins of the Saalburg served as a quarry well into modern times, the stones used for building constructions such as the church of Thron Abbey near Wehrheim. In 1818, Landgrave Frederick V of Hessen-Homburg put an end to their theft, and his successor Frederick VI bought the site and placed it under protection. Around the turn of the 20th century, interest in the legacy of the Roman Empire increased, and the Limes and the locations of its forts became the subject of intensive research. In the end, Emperor Wilhelm II arranged for the reconstruction of Saalburg, based on extensive excavation finds. Today, it is the most comprehensively constructed fort on the Limes and, together with Saalburg Museum, forms one of the most important research institutions on provincial Roman archaeology.
Roman life in the conquered provinces is the precise field that Karin Verbis-Glasbrenner chose as her area of academic study. "Old castles, palaces and maps have fascinated me since I was a child," she says, dressed in dark blue cloth and sitting at her favourite spot near the rear gate of the camp, the Porta Decumana. Today, she is a museum educator at Saalburg and, like many of the main characters at the site, wears Roman-style clothing and jewellery. At special events such as the Roman Market, visitors can take on the role of the former castle inhabitants themselves, and learn all about military customs.
It is presumed that an ancillary unit was also stationed at the fort, meaning there were not just Roman citizens here, but also auxiliary troops made up of recruits from allies and locals from the provinces.
Next article in the series:
Folgt in Kürze.
---
---
Gallery
---
Published on 28.02.2022
By clicking on this link you leave the Kultur in Hessen website and will be redirected to the website of Twitter. Please note that personal data will be transmitted in the process.

Further information can be found in our privacy policy.
By clicking on this link you leave the Kultur in Hessen website and will be redirected to the website of Facebook. Please note that personal data will be transmitted in the process.

Further information can be found in our privacy policy.