Show overview
---
A fantastic collection full of wonderful works of art - Art Nouveau in Wiesbaden (Part 3)
Art Nouveau is characterised by its variety of shapes and colours, and it creates a very special atmosphere. This can now be enjoyed in Wiesbaden in a very special exhibition. Since 2019, the Museum Wiesbaden has been home to the collection of Ferdinand Wolfgang Neess. The largest private collection of Art Nouveau objects in all of Europe was first housed, for many years, in Wiesbaden's Söhnlein Villa, which is also known as the White House ("Weissen Haus with two 's'!" emphasises curator Dr Peter Forster) because of its similarity to its American namesake. Art Nouveau collector and enthusiast Neess decided to donate his collection to the Museum Wiesbaden. "As soon as I entered the White House, I said: it has to come to us," Dr Forster, who looks after this extraordinary collection here, says happily. The collection comprises around 500 exhibits and requires special care. "It's all very elaborate: the lamps, the pedestals, it all needs looking after. These objects require a lot of love and attention." Neess gave them just as much of these as Forster does today: "The charm doesn't diminish. I always enjoy going through the exhibition, and have the same positive emotions over and over again."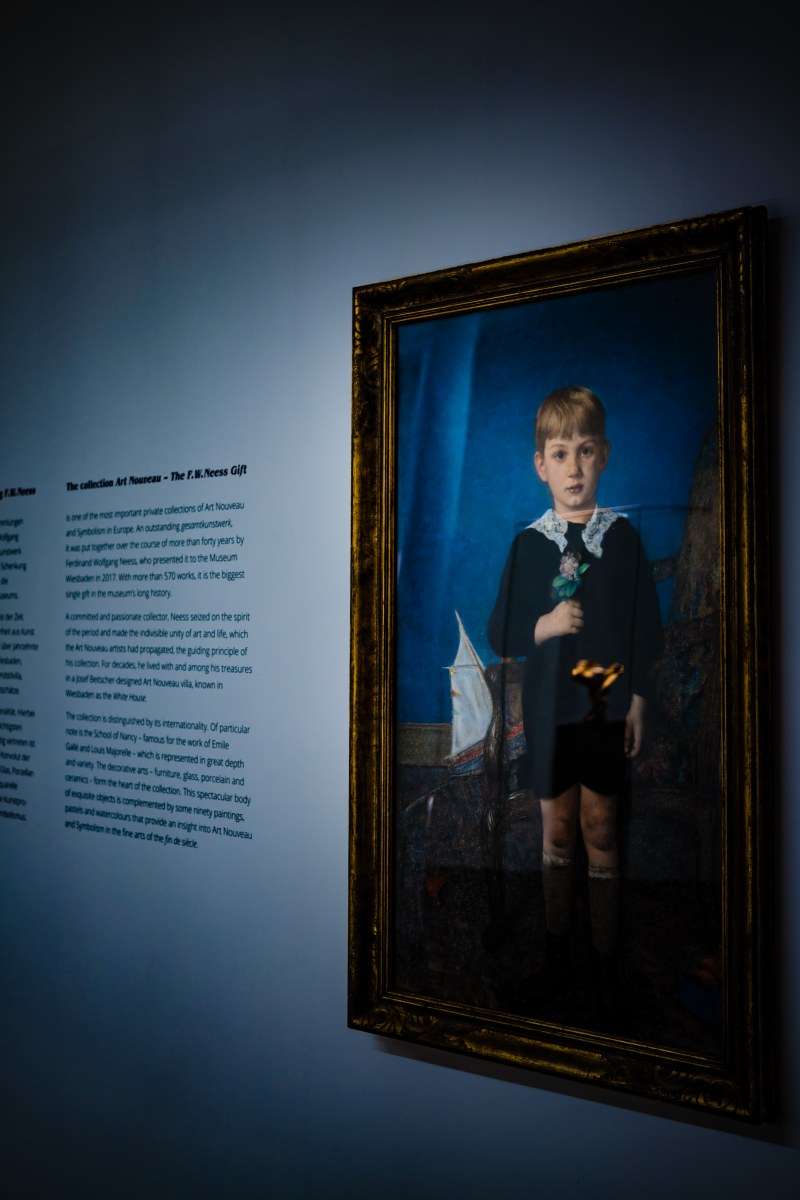 Forster also wants to share these positive feelings with the public. He began with the famous lamps from Tiffany, for example, of which only a few were originally in use. "The heat that's generated when they're in continuous use is so great that it would damage the objects," the curator explains. However, leaving them turned off was not an option. "The lamps are dead and anaemic if they're not lit. The atmosphere would be completely lost." A solution was needed. "We converted them all to LED technology so that they can now reveal their splendour. This medium of light also determines the entire display." Because what did Thomas Mann say about Munich's Jugendstil? "Munich shines!" Forster says, "With that, he actually described this art in a nutshell." The three-dimensionality, the colours, the light - all of this makes this exhibition something special.
The audience's eyes should also shine as they make their way through the exhibition. "You should want to come here again and again," emphasises Dr Forster. This is why the exhibition was also designed in such a way that it offers something new with every visit. It is full of nooks and crannies, and there's even a walk-in sculpture. The penetration of light from different directions and angles makes the coloured glass shine in different shades again and again. This is why people keep coming back, even though a permanent exhibition like this is always available. But it's different here. "There's something for everyone. You can walk out of here on a high!", Forster enthuses, sharing his favourite story: "After the opening, there was a Japanese man who flew in from Tokyo once a week to look again and again at one display cabinet. Then he flew back again!" But this enthusiasm is hardly a surprise: "You have such good fortune once in your life. We were given a whole era here! That goes beyond all comprehension." A stroke of good luck for the enthusiastic curator Dr. Peter Forster, for the Museum Wiesbaden, but above all for the visitors, for whom this treasure is now always available.
Previous article in the series:
A fantastic collection full of wonderful works of art - Art Nouveau in Wiesbaden (Part 2)
---
---
Gallery
---
Published on 25.02.2021
By clicking on this link you leave the Kultur in Hessen website and will be redirected to the website of Twitter. Please note that personal data will be transmitted in the process.

Further information can be found in our privacy policy.
By clicking on this link you leave the Kultur in Hessen website and will be redirected to the website of Facebook. Please note that personal data will be transmitted in the process.

Further information can be found in our privacy policy.