Show overview
---
The acceptance of imperfections - interview with Anne Harmssen (Part 3)
Acceptance of the imperfect is part of the tradition of restoration, or to formulate it with the art of Kintsugi: "the art of embracing damage"...
Oh, that sounds good (laughs). A conservator often looks first at the damage of an art object. When we discover strange or, at first glance, inexplicable damage or phenomena in works of art, we are very much in our element. But it's true, accepting imperfections is part of our job. We know we can never restore the original state exactly as the artist originally intended, and we accept the aged condition. We often understand even old restorations of a work of art as part of its history that should be preserved, provided of course that they don't render the work in an indecipherable state.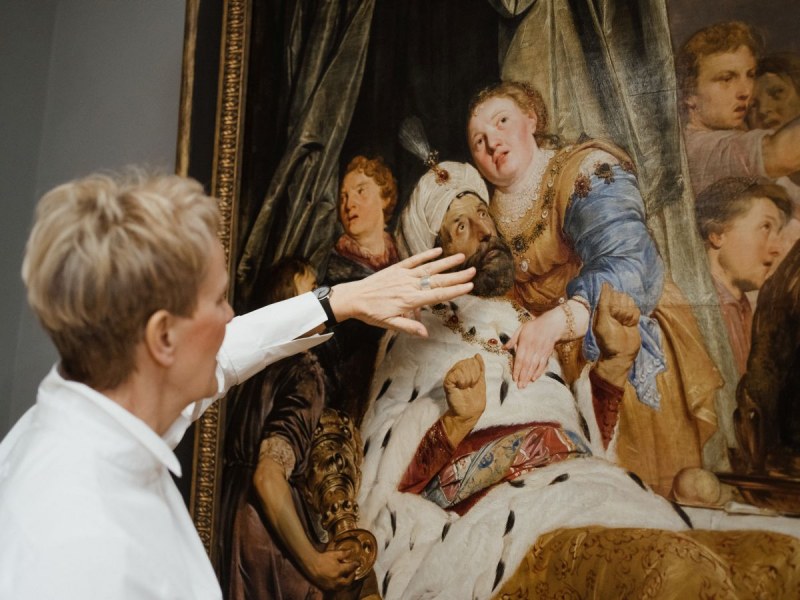 After 20 years of practical work as a conservator and another ten in a managerial position, was there a breathtaking moment in your career?
During my time as a conservator at the Herzog Anton Ulrich Museum in Braunschweig, it was not unusual for me to have a Rembrandt or Rubens on the table. I remember well the first time I looked at Rembrandt's family portrait under the microscope and admired the application of paint. Every single tiny detail became visible. Such a superb painting technique makes you feel that everything you do with your own hands is enormously crude.
Working on a work of art such as a Rembrandt is a huge responsibility. How much do you feel this responsibility? Have you ever been afraid of destroying a work of art?
Fear is perhaps not the right word. Awe is rather more like it. If you're afraid, you might make mistakes. But you don't just sit down and start frantically restoring. Before we start work, we examine a work of art extremely thoroughly. And one of the riskiest tasks, if you want to put it that way, is not the retouching or filling in of blemishes, but, for example, the removal of varnish from an original layer of paint. But this measure is also preceded by a long series of tests that provide the restorer with the certainty of knowing which method is the gentlest on the original. I actually always know which way to proceed, and begin with small tests in the peripheral areas of a painting. Nowadays, if something goes wrong during restoration, it is more likely to be due to a restorer's incompetence or carelessness.
However, our remit goes far beyond restoration alone. There are moments when the risk of damage to a work of art can be very high. Our responsibilities here in the restoration workshops also include, for example, accompanying objects "from nail to nail", as we say. So, when a work of art from our collections is loaned to another museum, we accompany the object all the way to its destination - all the way to New York if we have to. The journey entails all sorts of dangers, climatic, physical, and of course the risk of theft as well. During such a transport job, we are permanently with the object, monitoring its every movement, flying in cargo planes, standing on the runway... in that situation, you need to be able to assert yourself against a forklift truck driver and hold your own.
What do you think might be the groundbreaking possibilities in restoration technology over the next few years?
There is a lot happening in this area, and I am confident that a variety of technologies will be able to be made more readily available for the restoration of paintings. I can well imagine that in the field of varnish removal, we might in certain cases possibly rely on laser technology. Conservators are very creative, developing existing tools and modifying them for particular tasks on an art object. In the natural sciences, new technologies and solvent systems are constantly being developed as well...
Ms Harmssen, thank you for the interview.
Previous article in the series:
The acceptance of imperfections - interview with Anne Harmssen (Part 2)
---
---
Gallery
---
Published on 14.09.2018
By clicking on this link you leave the Kultur in Hessen website and will be redirected to the website of Twitter. Please note that personal data will be transmitted in the process.

Further information can be found in our privacy policy.
By clicking on this link you leave the Kultur in Hessen website and will be redirected to the website of Facebook. Please note that personal data will be transmitted in the process.

Further information can be found in our privacy policy.