Show overview
---
Preserving the town's extraordinary heritage - Seligenstadt Abbey (Part 1)
In the foreground is the little angel's garden; behind it, a two-storey stepped gable building built out of quarry stone. This is the abbey mill of the former Benedictine Abbey in Seligenstadt where, after it was founded in the 9th century, monks spent their lives following the principles of St Benedict for almost a thousand years. With the help of a multitude of servants, they were to a great extent self-sufficient from what the abbey's gardens and fields, forests and vineyards provided. So this abbey on the River Main was not only a place of prayer, but also of economic activity. "Being without mankind's oldest machine, a mill, was not an option," explains Fritz Haas, who knows every corner of the abbey town like the back of his hand. Abbot Philipp Merkel had the mill built in 1574. After the abbey was dissolved in 1803, it changed owners several times and was converted. At the end of the 19th century, it stood empty for a while.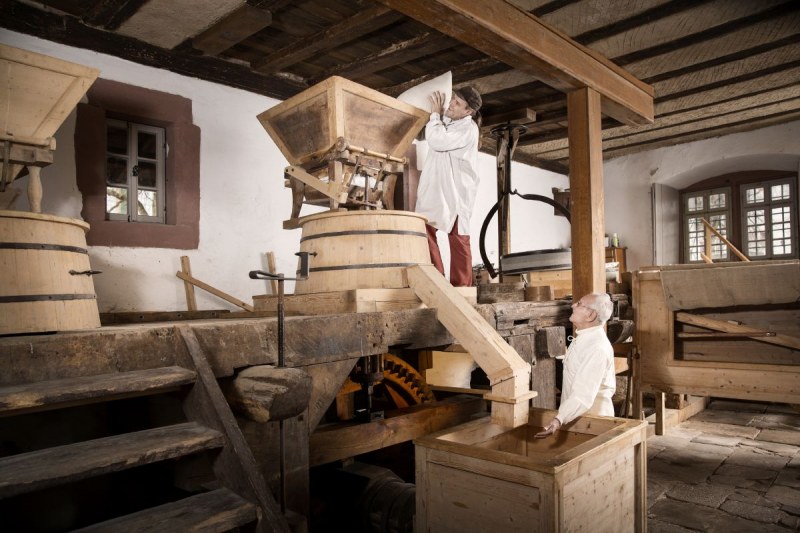 More than a hundred years later, Fritz and Georg Haas sit in the beautifully-preserved abbey courtyard and explain the workings of the old German mill, whose three wheels are turning once again. This is not least thanks to the Friends of Historical Seligenstadt, of which Fritz Haas is one of the founding members. He also inspired two of his sons to join. "The members share their knowledge of cultural history and their craftsmanship to help preserve the town's extraordinary heritage," explains the chairman, Marcel Spahn. "The first job we undertook was the oldest building of the Benedictine Abbey that had been preserved in its original form: the mill." Luckily, the building structure was so well preserved that in 1993-94, it was possible to reconstruct the inner workings of all three mill machines, each with its own grinding, grist- and oil extraction mills.
Georg Haas carries a sack of grain on his shoulder and pours wheat into the funnel. "The monks preferred to process spelt and rye into pulp, groats, bread and beer," he explains. "The gristmill was used for fruits that were intended for animals." From the funnel, the grains drop into the narrow trunk above the grinder - that's the name of the upper millstone. A mixture of flour and grist (whole grains) goes into the bag for sifting, where a beating stick makes it vibrate so that the finer and coarser parts end up in different containers.
"The whole grinding and sifting process has to be repeated a dozen times," says Fritz Haas, letting the coarsely-ground product run through his fingers. "Our spectators often express amazement at all this effort for a staple food that today, is largely ignored," adds Marcel Spahn. The Friends of Historical Seligenstadt demonstrate the functioning of the mill on a voluntary basis every Sunday between May and mid September, from 1.30-5pm.
Next article in the series:
Preserving the town's exceptional heritage - Seligenstadt Abbey (Part 2)
---
---
Gallery
---
Published on 23.05.2017
By clicking on this link you leave the Kultur in Hessen website and will be redirected to the website of Twitter. Please note that personal data will be transmitted in the process.

Further information can be found in our privacy policy.
By clicking on this link you leave the Kultur in Hessen website and will be redirected to the website of Facebook. Please note that personal data will be transmitted in the process.

Further information can be found in our privacy policy.