Wilhelmsthal Palace and Park
A Rococo gem in idyllic natural surroundings
Picturesquely situated in a valley, this landscape garden completes the historical "big three" of Hessen's Landgraviate palace parks close to Kassel. The highlight of the park, which was originally designed in Rococo style, is Wilhelmsthal Palace. One of the most beautiful Rococo palaces in Germany, it enthralls visitors with its splendidly furnished rooms.
The three-winged complex was built as a pleasure palace by Landgrave Wilhelm VIII of Hessen-Kassel between 1747 and 1761. With its almost entirely unaltered historical floor plan, it offers insight into what palace life was like at the time. Sumptuous fabrics and elaborate ornaments adorn the ceilings and walls, and each of the royal chambers are radiant in their own individual splendour. Exquisite furniture and valuable porcelain contribute to this, too. During a walk afterwards in the spacious grounds, visitors will find, amongst other things, an observation tower and a grotto with a water feature.
Kassel feiert noch bis zum 12. September das Themenjahr "Wasser".
Schaut doch mal rein.
Mit dem Anklicken dieses Links verlassen Sie die Webseite Kultur in Hessen und werden auf das Internet-Angebot von YouTube weitergeleitet. Bitte beachten Sie, dass dabei persönliche Daten übermittelt werden.

Weitere Informationen finden Sie in unserer Datenschutzerklärung.
---
---
---
Stories
Report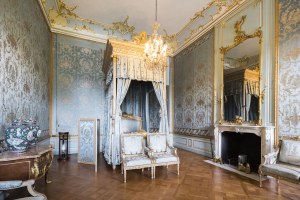 A reflection of craftsmanship
Walls as a field of expertise - Wilhelmsthal Palace, Museumslandschaft Hessen Kassel (Part 1)
Read story
Report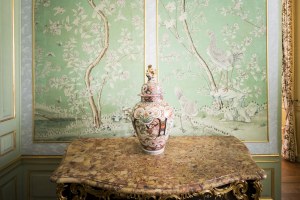 The joy of detail
Walls as a field of expertise - Wilhelmsthal Palace, Museumslandschaft Hessen Kassel (Part 2)
Read story
By clicking on this link you leave the Kultur in Hessen website and will be redirected to the website of Twitter. Please note that personal data will be transmitted in the process.

Further information can be found in our privacy policy.
By clicking on this link you leave the Kultur in Hessen website and will be redirected to the website of Facebook. Please note that personal data will be transmitted in the process.

Further information can be found in our privacy policy.